EdTech (education technology) is a considerable focus for Prosus, which invests in companies that help democratize access to quality education worldwide.
Prosus, one of the largest technology investors in the world, announced today that after just five years of investment, it would reach well over 500 million learners every month in this rapidly growing sector.
"We see exciting opportunities to deepen their learning experience over time," the Naspers-owned company said.
"If this past year has shown us anything it is that technology can fundamentally change a sector and enable it to scale much quicker, and this is especially true in learning and education," said Larry Illg, CEO Prosus EdTech.
Prosus was an early investor in EdTech.
More than five years ago, Prosus Ventures team identified Edtech as a significant opportunity.
"The size and growth of the sector, combined with falling technology costs and rising education costs, provide great potential for innovation and disruption at scale."
Since 2016, Prosus said it had built a world-class, global portfolio of EdTech companies spanning primary, secondary, vocational and lifelong learning.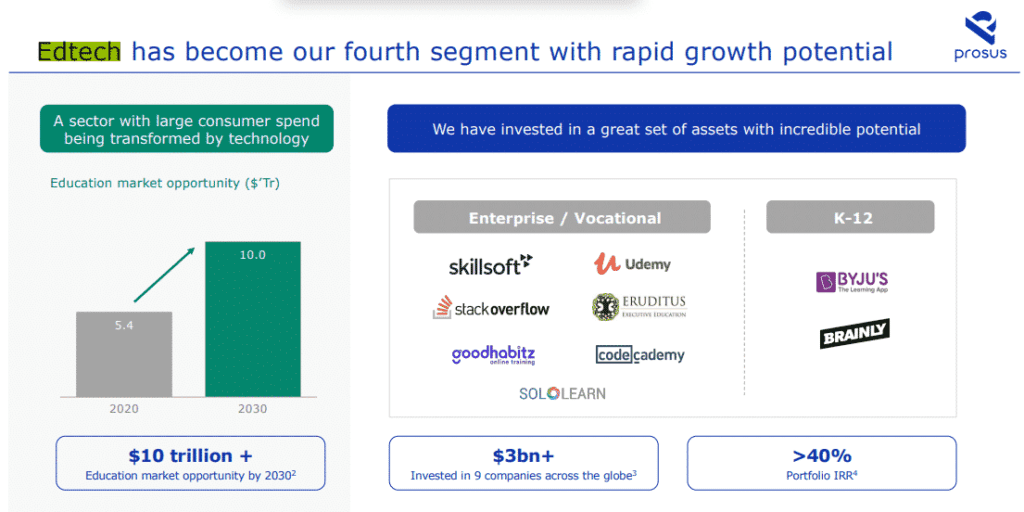 The company entered the EdTech market in 2016 with investments in Brainly, Codecademy and Udemy, and has continued to expand its assets in the sector since then, with the portfolio now also including BYJU's, Eruditus, Skillsoft, SoloLearn and Stack Overflow.
Prosus has invested over $3 billion (R43 billion) in a portfolio of nine companies globally.
"Finally, our investments in Edtech began to bear fruit, driven by increased adoption by students working from home," Bob van Dijk, Group CEO, Prosus said.
Also read: Prosus To Buy Stack Overflow For R24 Billion