Key to Apartheid's grand architecture was the garbled design intended to provide a delusion of functional, quasi-states with their educational institutions, and broadcast media.
Aided by the geospatial spread of the South African Bantustans known as TBVC (Transkei, Bophuthatswana, Venda, and Ciskei) states, Pretoria allowed them to self-provision broadcast media ecosystems (newspapers, radio, and, to a lesser extent TV). The self-provision was allowed while big brother tightfistedly locked away the means of production (radio frequencies).
Unless you harboured a death wish, the content could not be at variance with the fundamental outcomes of homogenisation, manipulation, and suppression of public opinion.
Parallel to the public broadcaster SABC's African language stations, TBVC states could establish English medium platforms, the most emergent of which were Bophuthatswana Broadcasting, Radio Ciskei, Radio Thohoyandou, and homeland-based commercial stations like Radio 702 and Capital Radio 604. All of which shared the barely audible quality of Medium Wave (MW) frequencies.
The MW band stations grew phenomenally and made superstars and household names of those talented enough to get the nod. Radio Bop led in popularity; its frequency spillages into the commercial hub of Johannesburg driving the station and its voices as the primary alternative to SABC radio.
Fresh-faced and swashbuckling, Bob Mabena's massive popularity at Radio Bop would make the SABC swoop for his services to their flagship English station Radio Metro in the early 90s.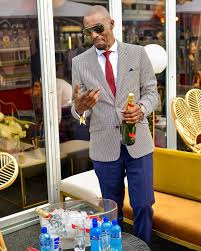 Not since the demise of the charming Boogie Harry Cohen had a voice burrowed in to find the bullseye of urban listeners smack on the nose of drive-time radio.
His dark, youthful looks and hearty laughter made many a young heart flutter and concocted a marketer's dream combo.
It's disconcerting to write of Bob 'The Jammer' in the past. The 51-year old star died from cardiac arrest on Monday afternoon. Still, Bob's career was epoch-defining in so many ways, largely attributed to his mass appeal and affable mannerisms. He was unmatched as a radio brand at Metro FM and was an instant hit on TV, perhaps comparable only to the illustrious Lawrence Dube and his Toyota Top 20.
With the government of the day inheriting a moribund, almost dysfunctional SABC on the cusp of a new global digital economy, transformative legislation through the IBA Act's Triple Enquiry Report was enacted to rapidly open the market for competition through the deliberate privatisation of some SABC assets.
Kagiso Media (later to receive a greenfield licence to start Kaya FM) and PRIMEDIA Broadcasting (owners of Radio 702) mopped up the lucrative stations of the SABC for just under R500 million.
Daring as always, Bob raised eyebrows by moving across to PRIMEDIA's Highveld Stereo, predominantly focused on urban white audiences with little resonance to black audiences. But the transformative post-1994 era ushered in shifting sands: Black audiences were prized by desperate white advertisers who sought to understand emerging African trends, even coining loose phrases like "Black Diamond".
I arrived at Kaya FM in the winter of 1998 when I was offered a graveyard show (02:00-06h00) and just a few months before the station launched a massive style drive campaign ahead of its first birthday. Bob breezed into 38 Bolton Road, Rosebank studios a year later as both Programmes Manager and host of Bob's Breakfast Beat, with Stan Katz in the C-Suite. Along with Carlito Sheikh as a producer, BBB grew into an overnight success, and numbers at revenue and audience made a momentous incline.
When Walter Mokoena, the show's Sports anchor left for the SABC, I took over sports on BBB, meaning I would stay at the station from 02h00 till 08h30, throughout the show. Never one to display his contempt for anyone, we had a fulfilling, cordial, and professional relationship, and some coarse late evenings with Justice Ramohlola hosted by the famous French chef and restaurateur Michelle Morand at his Gatrilles Restaurant in Sandton.
Periodically, I was roped in to sit in for Bob on his BBB show when for any other reason he wasn't available, and that was a terrific honour, confirming my emerging credence in the eyes of the bosses.
Ever restless, Bob left again to return to Highveld, causing a domino move: KG Moeketsi was bumped up into the show, and I took over the 09h00-13h00 midmorning show, which I presented until 2003 when I resigned to pursue corporate opportunities. Nevertheless,  I continued to be part of the family, with Charlene Deacon, the MD, well-disposed to my suggestions for weekend breakfast radio shows which I hosted until 2006.
Bob's dexterous experience turned out to be a demanded, useful strategic insight for management at the SABC, and even back again at Kaya. Perhaps he begrudged the pretentious excesses of the cushioned C-suite, and felt drawn to the microphone even more.
His second return to Kaya FM and senior positions later at MSG's Power FM tapped into his vast reservoir of radio experience in content strategy and mentoring other on-air personnel.
He could have benefited the whole country had the government implemented policies to foster sound professional standards and promote best practices to the benefit of community radio stakeholders or PBS (public broadcasting services) with the mechanics of their mandates.
But as we know, hindsight is a perfect science.
All that's left is for us to show his distraught family how deeply the world treasured him.
Such posthumous posturing won't put food on the table nor make his Foundation liquid enough to achieve half his visions.
Mabena was smart; an astute student of, and for life; self-deprecatory about his lack of academic accolades but overcompensating with unrivalled colossal presence and in-depth research.
That he died still anchoring a drive-time radio show attests to his adaptability to today's digital radio formats.
I was equally guileless and barely out of my teens when I sat at Radio Thohoyandou's studios back in 1988. I did not have the slightest right to wish I'd make it that far amongst Bob and The Stars.
Bob K Mabena went as the crow flies; for it was through his impeccable commitment to his passion that he finally found his proverbial sycamore tree.
Lloyd Nedohe is reading for his PhD in Digital Economies at Wits University and runs his ICT enterprise Mashudu Group. He was previously a news and current affairs anchor at SABC TV and Radio presenter at Radio Thohoyandou, Metro FM, Phalaphala FM and Kaya FM  in a broadcasting career spanning 18 years.