South Africa to lift alcohol and cigarette ban as the country is moved to level 2 lockdown.
A hard lockdown was imposed at the end of March to curb the spread of COVID-19 while giving the government time to prepare the healthcare system for the expected spike in virus infections.
Level 3 of the lockdown began on 1 June and enabled the sale of alcohol.
The South African government implemented an alcohol sales ban early on when COVID-19 hit the country, as part of its public health response to contain the spread of the virus. The ban was intended to reduce the heavy alcohol burden on the country and specifically on the healthcare system.
"As South Africa moves to lockdown Level 2 on August 18, prohibitions on the sale of alcohol & tobacco products will be lifted. Gyms & fitness centres will be permitted to reopen. Appropriate restrictions & safety precautions will apply to protect public health," said President Cyril Ramaphosa.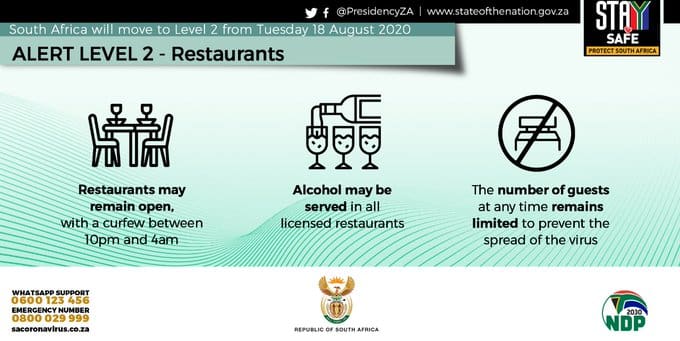 President Cyril Ramaphosa was updating South Africans this evening on government's response to the coronavirus and the latest amendments to the country's lockdown regulations.
"The suspension of the sale of alcohol will be lifted subject to certain restrictions," he said.
He added that alcohol will only be permitted for on-site consumption in licensed establishments up until 10pm.
"Liquor outlets will be allowed to sell alcohol for off-site consumption from Monday to Thursday during the hours of 9am to 5pm only," he explained.
"Restaurants, bars and taverns will be permitted to operate according to approved protocols as to times of operation and numbers of people."