The rise of cryptocurrencies has been fierce and quick over the last few years, with 2020 a particularly interesting one. What's with the sudden surge in popularity? For one thing, people started losing confidence in centralised finance as the pandemic caused major upsets and economic turmoil, including changes in interest rates and inflation, along with global economic recessions. Suddenly, crypto and decentralised finance (De-Fi) became a more attractive option because they were seen as less affected by the Coronavirus chaos that had overtaken traditional financial institutions. With Bitcoin reaching an all-time high and De-Fi growing exponentially, the last year has resulted in the recognition of cryptocurrencies into mainstream usage at a faster rate. Companies like Tesla, Visa and PayPal have accepted Bitcoin as a payment method and, along with the massive institutional investment in the popular crypto, cryptocurrency overall has earned a place in the markets as a fixed feature to be reckoned with. Let's delve a little deeper into Bitcoin, Binance Coin and Ethereum's performance so far this year to see what these movers and shakers in the cryptocurrency realm have been doing.
Bitcoin 
The king of crypto didn't get this nickname for nothing. With major investment from Tesla, billionaire hedge fund managers and other large public-listed companies, 2020 was Bitcoin's time to shine, and 2021 has continued in a similar vein. Bitcoin has risen by 80% so far in 2021, hitting an incredible all-time high of almost $65,000 and flexing its muscles as the most popular cryptocurrency in the world. However, Bitcoin remains volatile, which we've come to expect from cryptos, having experienced a slump in January down to around $30,000, and then jumping back up to $54,000 by the end of April. Yet the general trajectory for the king of crypto this year, albeit a volatile one, has been upwards, and Bitcoin was trading at around $56,000 in the beginning of May, which is a far cry from its January lows. The future for Bitcoin looks interesting, as companies like Tesla lead the way for acceptance of cryptos into mainstream payments by allowing people to purchase their Tesla products with Bitcoin. Aside from this, institutional investment in the popular coin continues to boost Bitcoin's popularity and credibility, so the rest of this year should be a noteworthy one for those looking to invest in cryptocurrency price movements.
Ethereum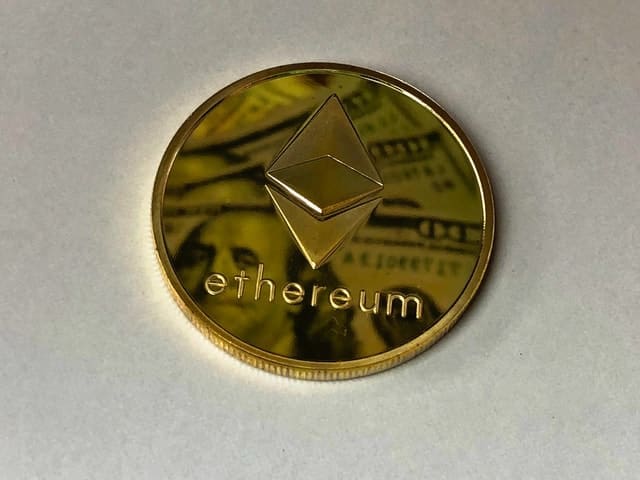 Move over Bitcoin, Ethereum is taking the spotlight for a while as it rises to new heights in the markets this year. The world's second largest crypto by market cap is having a cracker of year, outperforming Bitcoin by a mile when it comes to growth, and is now worth $289 billion. Ethereum accounts for about 14% of the total crypto market cap and increased by an astounding 953% over the last 12 months. Ethereum runs more than 90% of the globe's smart contracts and with Ethereum 2.0 on the horizon, the company is in a good position to make a name for itself in the world of digital currencies thanks to its versatile platform.  This year, Ethereum smashed through the $4,000 mark and has risen by 400% since the beginning of 2021. That's a whopping four times more than Bitcoin has gained in the last five months, making Ethereum a serious contender in the crypto market. Ethereum's rally has been driven by the global shift towards De-Fi, coupled with Ethereum's platform improvements, the release of Ether ETFs in Canada, and the rise in non-fungible tokens, which have created a greater need for Ether wallets.
Binance Coin
Binance Coin makes up about 4.3% of the total crypto market cap, making it the globe's third largest crypto. Over the last six months, Binance Coin has been soaring, largely due to the market perception that Binance may become a key component of the crypto-based financial system that is currently evolving. Yet in typical crypto fashion, the coin remains volatile, with concerns being raised about Binance's regulatory structures. At the beginning of April, Binance Coin increased by a solid 53% in just seven days, pointing towards the coin's increasing importance in the world of crypto. The up-and-comer has now become a $100 billion crypto, and recently gained over 20% on its price in May, taking it to about $680. Binance Coin's acceleration has been gigantic, considering the crypto was sitting at a market cap of $50 billion just one month ago, which it has now doubled. What's next for the third largest crypto in the world? The sky is the limit, as Binance Coin has had a 1,750% increase in price since the beginning of 2021 and is looking strong in the markets.
Invest in cryptocurrency CFDs
When it comes to participation in the cryptocurrency markets, one word you'll hear a lot is volatility, which is a characteristic of virtually every crypto out there. This volatility can present both opportunities and risks for certain informed traders who invest in cryptocurrency as CFDs, or Contracts for Difference. CFDs allow you to take advantage of price movements in both directions—increases as well as decreases—of cryptos like Bitcoin, Binance coin and Ethereum, without having to purchase the underlying asset (in this case any actual crypto) and without the need for an e-wallet. Essentially, you're investing in volatility, so if you expected the price to increase, you'd open a 'Buy' deal or 'Go long,' but if you expected the price to decrease, you'd open a 'Sell' deal or 'Go short.'
If you'd like to invest in cryptocurrency as CFDs, your biggest resource along your trading journey is going to be knowledge. Make sure that you've read up and researched everything you can about what cryptocurrencies are, how they work, how cryptos are performing and what may affect their price movements. Many brokers offer live rate charts and trading tools that can keep you up to date, however, it's also worth keeping your eye on financial news articles concerning all things crypto. The more knowledge you are armed with when opening your CFD trading deals, the more confidently you'll be able to trade.
EGOLI FOREX (Pty) Ltd. is authorised by the Financial Sector Conduct Authority (FSC A) in South Africa as a Financial Service Provider (FSP) with authorisation number 49015.
EGOLI FOREX (Pty) Ltd acts solely as a direct marketer/intermediary in terms of the FAIS Act, rendering only an intermediary service in relation to derivative products (CFDs) offered by Formula Investment House Ltd.
Formula Investment House Ltd. is an investment firm licensed and supervised by the British Virgin Islands' Financial Services Commission. Click here for further details- https://www.iforex.com/legal/license.pdf. Should you wish to open an account, your account will be opened with Formula Investment House Ltd.
Visit Formula's Legal Agreements and Documents webpage (https://www.iforex.com/legal-documents/legal-agreements-and-documents) for more information on the terms and conditions of the services offered by Formula Investment House Ltd.
Risk Warning: Forex and CFD trading involves a significant risk to your invested capital. Please ensure you fully understand all the risks involved.
Full Disclaimer: https://www.iforex.co.za/legal/disclaimer