Vodacom's partnership with Alipay, the world's leading digital lifestyle services platform, will bring inclusive mobile solutions to consumers and merchants in South Africa through innovative digital technologies.
Alipay, part of China's Alibaba, and Vodacom Financial Services are developing a single lifestyle app to enable consumers to shop online, pay bills, and send money.
The partnership was made public in July, but at the time the announcement drew little attention in South Africa because the COVID-19 pandemic was dominating the news.
However, Vodacom subscribers should now pay attention to the development – not just because of the partnership.
The real deal is about the new super app that will make it easier for Vodacom subscribers to manage their life and business on their smartphones. 
Vodacom promises that the super app will offer a stellar digital customer experience and bring to life a marketplace of goods and services tailored to customers in South Africa.
Big data, Artificial intelligence (AI), and business intelligence capabilities are at the heart of Vodacom's efforts to enhance the customer experience. 
The Vodafone-owned company intends to embed itself in the lives of customers.
"The last six months confirm the importance of our core services. During that time we accelerated our evolution from a telco to a technology company," says Shameel Joosub, Vodacom CEO.
Joosub spoke at the company's results presentation earlier this week.  
"We continue to expand our ecosystem of products across connectivity, digital and financial services," says the ambitious Vodacom chief executive.
"We have built a diversified portfolio of accelerators to enhance our revenue opportunities as we expand beyond our core services. 
"The intent being to embed ourselves in the lives of customers, underpinned by transformational big data and business intelligence capabilities, which generate next best activities for customers."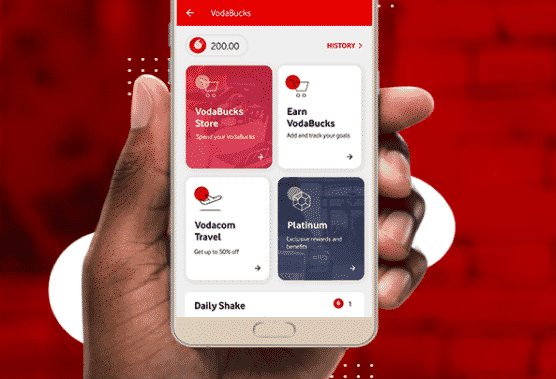 To showcase how Vodacom is using AI to enhance the customer experience, the company recently launched its loyalty program, VodaBucks. 
All Vodacom clients – prepaid and contract – can register to earn VodaBucks, which they can use to buy an expanded range of products. 
For every R10 spent with Vodacom, clients get one VodaBuck. 
Users can also earn Vodabucks by engaging with the My Vodacom App, paying Vodacom bills, and buying bundles with VodaPay. 
VodaBucks can be used to purchase fashion items, food, electronics, and appliances via the VodaBucks store, which can be accessed on the Vodacom app.
"This program, like many of our products, is powered by our in-house capabilities and our in-house business intelligence and AI capabilities," says Joosub. 
"It will accelerate our return profile. We are willing and able to partner with global tech leaders."
This ecosystem is helping Vodacom to deliver a better customer experience and expand its revenue streams.
"At the centre of this 360-customer experience strategy is our AI and business intelligence," explains Joosub.
"Our in-house capabilities, which we invested in a few years ago make us a data-led organisation and a class leader in the sector. "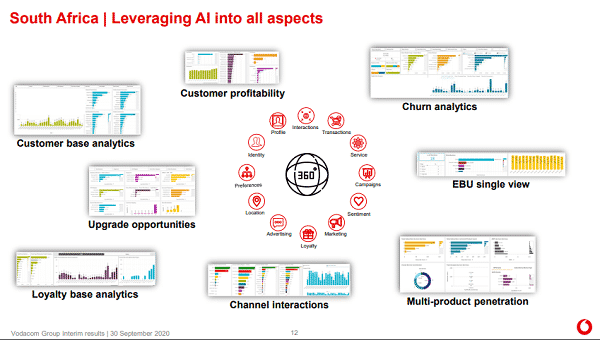 "This slide sets out some of the metrics we track on a minute-by-minute basis, leaving nothing to chance or good fortune," explains Joosub.

 

"These capabilities have proven particularly important in delivering our South African performance for the six months.

 

"The digital 360-view that we have of our customers will help us further enhance the customer experience."
AI and Machine Learning, 5G, and IoT will be the most important technologies in 2021, suggests a new study by the IEEE, the world's largest technical professional organisation dedicated to advancing technology for humanity.
Vodacom is already using AI to develop better products, services and ways to market them.
Also read: Vodacom Is Attracting More Financial Services Customers