Vodacom reported on Monday that its financial services customers, including Safaricom, rose 12.6% or 6.1 million to 54.8 million in the six months to end-September. The Vodafone-owned group also reported that Financial Services business revenue rose 3.1% to R9.2 billion.
The company's key market of South Africa contributed R1.1 billion in revenues after experiencing a 15% increase on the back of its popular Airtime Advance, insurance and VodaPay services (direct airtime, prepaid electricity, bills).
The company advanced R5.7 billion in airtime (38% of total recharges) via Airtime Advance platform to 10.1 million customers in South Africa. Insurance policies increased 23.4% to 2 million, with revenue up 13.5%.
"Investment into digital innovation is key to the group's growth outlook of which our Financial Services business is an important enabler," said Shameel Joosub, Vodacom CEO.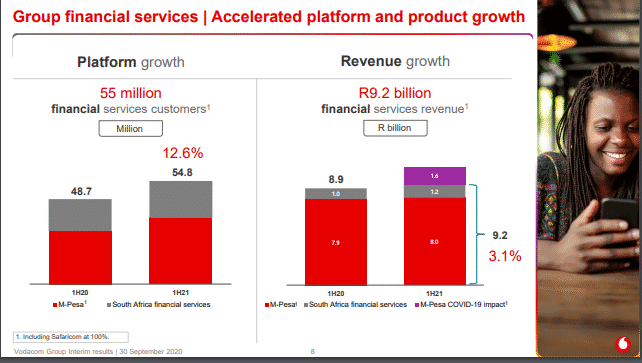 In partnership with digital payment provider Alipay, part of China's Alibaba, Vodacom Financial Services is developing a single lifestyle app to enable consumers to shop online, pay bills and send money to family.
M-PESA and Nano Lending Platforms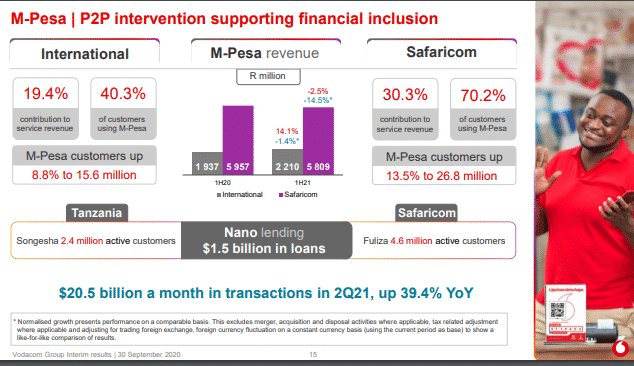 Vodacom's M-Pesa revenue was up 14.1% to R2.2 billion in the six months to end-September.
"While initiatives such as free peer-to-peer (P2P) M-Pesa transactions at the onset of COVID-19 impacted the financial performance of our International portfolio, it played an important role in facilitating economic activity in addition to being the right thing to do for customers," the company said.
"Subsequently, this has supported accelerated platform growth and customer adoption of digital channels to the point where the M-Pesa ecosystem now processes $20.5 billion (R309 billion) a month in transactions across our International markets, including Safaricom, and contributed R8 billion in revenue in the period."
Safaricom added 1.9 million M-Pesa customers and 2.5 million total customers for the six-month period ended 30 September 2020.
Vodacom's Songesha, its lending product in Tanzania, has extended nano and small loans to 2.4 million customers, with facilities of TZS127 billion granted during the period.