Over the past decade, mobile money has expanded from a niche offering in a handful of markets to a mainstream financial service. Mobile money services is moving millions of households in low- and middle-income countries (LMICs) from the informal cash economy into a more inclusive digital economy.
In 2021, there were more than 1.35 billion registered mobile money accounts worldwide, a tenfold increase from 134 million in 2012.
This was revealed in the GSMA's 10th annual 'State of the Industry Report on Mobile Money' published today.
"Year-on-year growth in new registrations continues, defying initial expectations that it would taper off," according to the report.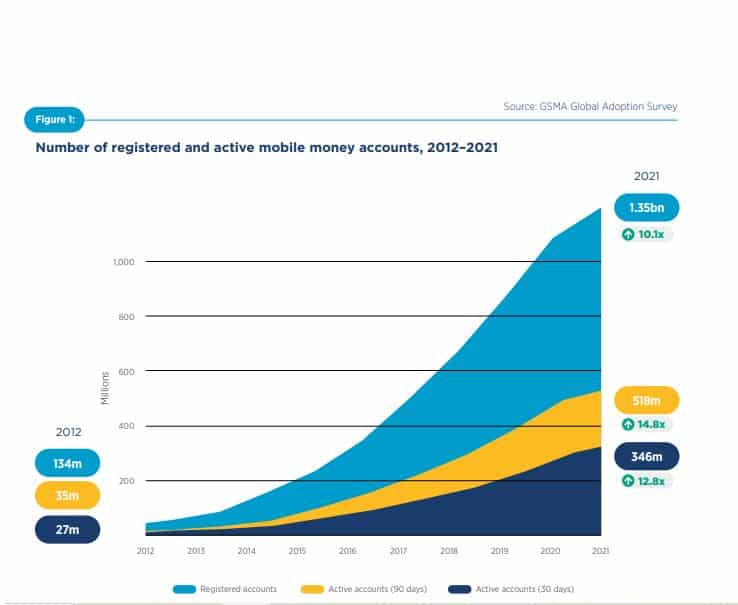 The report's authors further state mobile money customers are also more active users.
The proportion of accounts active on a 90-day basis has grown from 26% to 38% between 2012 and 2021, and from 20% to 26% for monthly (30-day) active accounts in the same time period.
With populations growing rapidly in most LMICs, mobile money markets are far from saturated, and demand for mobile financial services is likely to remain high among financially excluded and often marginalised populations, argued the authors.
"Despite progress in mobile money adoption, hundreds of millions of people in LMICs encounter barriers at every step of the mobile money journey, including mobile phone ownership (this is a particular barrier for women).
"Even among registered account holders, about one billion are not active on a monthly basis, representing an important opportunity for the industry to deepen financial inclusion and economic participation.
The annual GSMA Consumer Survey conducted in 10 LMICs in 2021 found that, among adult mobile owners who are aware of a mobile money service but do not have a mobile money account, some of the main structural barriers to account registration include: insufficient digital skills, unreliable mobile network, difficulties reading and writing, preference for cash, lack of trust in the system, lack of proper identification (ID) and unreliable electrical grids.
Awareness of mobile money services also constitutes an important barrier in a number of markets.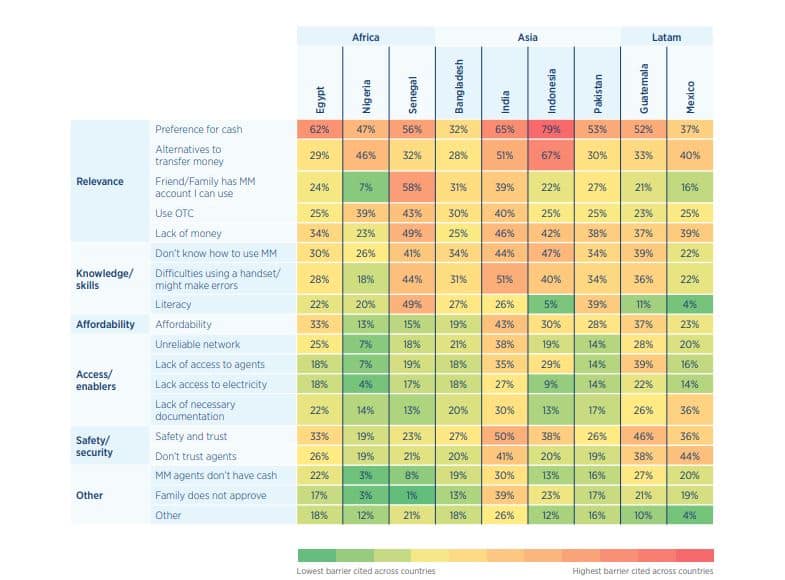 These diverse and complex barriers to adoption suggest that enabling equal access to these
services is not only the responsibility of mobile money providers, but also an array of other actors.
From delivering sufficient consumer education to improving energy access, all stakeholders along the financial inclusion journey have a role to play.
"As a more accessible and easy-to-use payment channel, mobile money has been able to overcome some of the barriers that might be experienced in the traditional financial sector."
In Senegal, for instance, 71% of adults reported they had used mobile money in the last 30 days even though nearly half of them stated they had great difficulties reading and writing or were completely unable to read or write.
"This demonstrates that, with the right design and user education, mobile money can
overcome complex barriers to financial inclusion."
In the coming years, the GSMA expects account growth to come from both long-established mobile money markets and markets where mobile money services are still nascent, especially South Asia and African countries such as Nigeria, Ethiopia and Angola.
For example, in 2021, Ethiopia saw the launch of a mobile network operator (MNO)-
led mobile money service, and the Central Bank of Nigeria granted Approvals in Principle to leading MNOs to run mobile money services in the country."