The Volkswagen (VW) Group has unveiled a  bold new auto business strategy that aims to transform the group into a software-driven mobility company with a strong focus on its powerful brands and global technology platforms, providing synergies and scale as well as opening up new profit pools.
Herbert Diess, the CEO of VW, laid out the strategy on Tuesday stating that VW is setting new priorities to leverage the opportunities arising from the electric and digital era of mobility, with sustainability and decarbonization as integral parts of its new strategy.
"We set ourselves a strategic target to become global market leader in electric vehicles – and we are well on track. Now we are setting new parameters," said Diess during the presentation of new auto, the group's strategy through 2030.
"Based on software, the next much more radical change is the transition towards much safer, smarter and finally autonomous cars. That means for us: Technology, speed and scale will matter more than today. The future of cars will be bright!"
By 2030, VW plans to reduce its carbon footprint per car by 30% over its lifecycle.
VW has already earmarked €73 billion for future technologies from 2021 through 2025, representing 50% of total investments. The share of investments into electrification and digitalization will be further increased.
VW will also continue to raise efficiency and is on track to meet its 5% fix cost reduction program that it set out for the next two years. Volkswagen is also committed to reducing material costs by another 7% and is optimizing its internal combustion engine cars (ICE) business with fewer models, a reduced ICE drivetrain portfolio and a better price mix.
From 2026 onwards, VW plans to start the production of pure electric vehicles on the SSP (Scalable Systems Platform). This next generation will be all-electric, fully digital and highly scalable. Over its lifetime, more than 40 million vehicles are projected on this basis.
To improve and speed up its mechatronics platform competencies, the Group will invest around €800 million into a new Research & Development facility in Wolfsburg, where the core of the SSP platform and its modules will be designed.
"Introducing the SSP means leveraging our strengths in platform management and building on our capabilities to maximize synergies across segments and brands. In the long run, our SSP will significantly reduce complexity in mechatronics," said Markus Duesmann, CEO of Audi.
"Thereby, it is not only a central premise to lower CAPEX, R&D and unit costs compared to MEB and PPE and to enable the Group to reach its financial targets. It particularly is the enabler to manage future challenges in vehicle development, as cars become more and more software-oriented."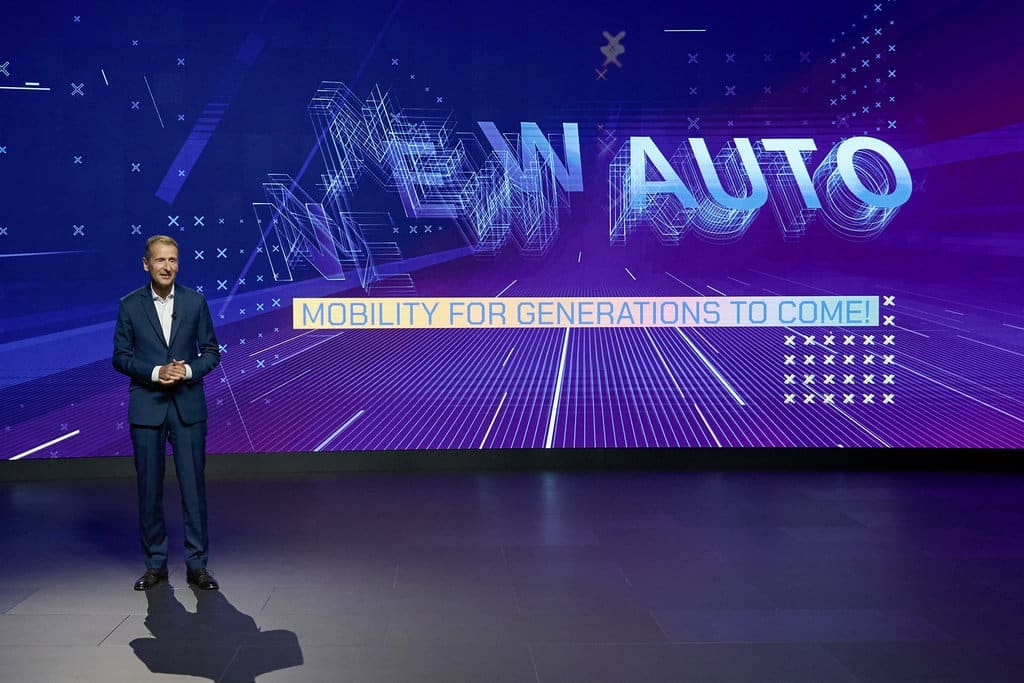 Software – Seamless, global software platform to enable intelligent and autonomous driving
Software will enable the seamless integration of NEW AUTO into the customers' digital lives and deliver even higher economies of scale. Volkswagen Group's automotive software company CARIAD aspires to develop the leading software platform by 2025, as one software backbone for all group cars. Currently, the entity is working on three software platforms: E³ 1.1 allows for upgrades and over-the-air updates of the MEB product portfolio, such as the Volkswagen ID.4, the Skoda Enyaq or the CUPRA Born.
In 2023, CARIAD will release the premium software platform 1.2 (E³ 1.2): It will enable a variety of functions including a new unified infotainment system and over-the-air updates for Audi and Porsche vehicles. In 2025, CARIAD plans to launch a new unified, scalable software platform and end-to-end electronic architecture.
"Software plays the decisive role in the transformation from a pure car company to an integrated mobility group. By 2030, software – on the basis of automated driving – can become a major source of income in our industry", said CARIAD CEO Dirk Hilgenberg.
The new unified 2.0 software platform for on-board connectivity and software to be rolled out throughout the group with the SSP, will open the way to a completely new ecosystem and thus also to new data-based business models.
By 2030, up to 40 million vehicles across brands will be operating on VW´s software platforms.
Battery & Charging – Infrastructure as key to maximizing the "NEW AUTO" potential
Proprietary battery tech, charging infrastructure and energy services are key success factors in the new mobility world. Therefore, power will be a Volkswagen Group core competency by 2030, with the two pillars "battery cell and system" and "charging and energy" under the roof of the new Group division Technology.
VW plans to establish a controlled battery supply chain by setting up new partnerships and tackling all aspects from raw material to recycling. The goal is to create a closed loop in the battery value chain as the most sustainable and cost-effective way to build batteries.
In order to reach its goal, Volkswagen Group is advancing battery competence and reducing complexity. To that extent, it is introducing one unified battery cell format with up to 50% cost reduction and up to 80% use cases by 2030. Six giga factories in Europe with a total production capacity of 240 GWh by 2030 will help to secure battery supply.
Also read: Future VW Connected Cars Will Come With Huawei's 4G Connectivity