SA Taxi, a vertically integrated minibus taxi platform, wants to use technology to modernize the South African minibus taxi industry and make travelling safe.
The company announced on Tuesday is using its telematics and other data accumulated from its rewards programmes to proactively drive behavioural changes in the minibus taxi industry.
The company said using telematics and data in the taxi industry would have a positive social impact and enhance commuter safety.
SA Taxi will expand its tailored rewards programmes within the minibus taxi ecosystem.
"Ultimately, the division intends to leverage its telematics and rewards programmes data to connect to South Africa's 250 000 minibus taxi operators, selling existing (finance and insurance) and new products and services suited to the needs of minibus taxi operators," the company said.
SA Taxi is continually assessing new opportunities and investing into adjacent and vertically integrated sectors of the minibus taxi industry supporting future organic growth. "This investment is offset by new revenue lines and investment into technology to drive operational efficiencies."
SA Taxi, which is owned by JSE-listed Transaction Capital, is vertically integrated into the minibus taxi industry. The South African National Taxi Council (SANTACO), which is a national body which represents the interests of its members who are individual minibus taxi operators, owns 25% of SA Taxi.
Black Elite Rewards Programme is Making Inroads in the Taxi Industry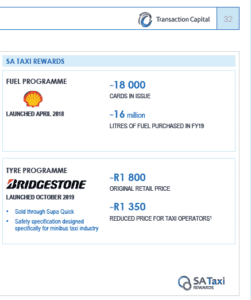 The company is already delivering value to the taxi industry through its rewards programme.
The Black Elite, a minibus taxi rewards programme, is slowly becoming a rewards programme of choice for taxi drivers seeking to save money on refilling their minibus petrol tanks.
Black Elite, a card-based consumer programme that offers fuel rewards to minibus taxi operators, could become a considerable banking operation if its backers follow through their stated vision.
The card is now used by 18 000 taxi drivers versus 14 000 in 2018.
In the year ended 30 September 2019, Transaction Capital announced that in excess of 16 million litres of fuel has been purchased at Shell garages versus 6.5 million in 2018.
The fuel rewards programme was launched in April 2018 by SA Taxi, an independent minibus taxi financier, in collaboration with Taxi Choice, the commercial arm of the South African National Taxi Council (SANTACO).
During the year, SA Taxi teamed up with Bridgestone South Africa, a tyre manufacturer, to provide tyre specifically designed for the Toyota minibus taxi. The tyre has been designed to meet not only the stringent requirements of the Ses'fikile Toyota Quantum minibus taxis but also the Original Auto Equipment Manufacturer requirements. For more read: Bridgestone, SA Taxi to Provide Discounted Tyres to MiniBus Taxi Industry
The South African National Taxi Council owns 25% of SA Taxi.
Through SA Taxi Rewards, an associated multi-faceted loyalty programme, operators will be able to save R400 per tyro and earn rewards on parts, maintenance, and fuel.
The Bridgestone tyre was retailing at R1,800 and now through the rewards programme is available to the taxi industry for R1,350.
Initial programmes provide rewards based on fuel and tyre spend, regardless of whether the operator is a client of SA Taxi or not. "Further rewards programmes aimed at parts procurement are under consideration," said Transaction Capital.
In the last five years, SA Taxi's loans and advances portfolio has shown a relatively stable compound annual growth rate of about 12%. This year, the portfolio grew 16% to R10.8 billion comprising 32 441 loans, with the number of loans originated increasing 11%.
Raised R5.5 billion to secure funding requirements
SA Taxi raised R5.5 billion in debt facilities during 2019 and its funding requirements into the 2020 financial year are already secured.
Transaction Capital said the business continues to balance its cost of debt against the benefit of committed facilities and longer duration debt from a diversified funding base of approximately 35 distinct local and international debt investors.
"SA Taxi is exploring opportunities with local developmental finance institutions to lower its cost of debt."
SA Taxi's dealership sells new and pre-owned minibus taxis, which provide operators with a reliable and affordable alternative to buying new vehicles. Its retail dealerships in Midrand and Polokwane showed strong momentum in 2019.
"The number of minibus taxis sold grew by 14% on last year, generating gross revenue of about R900 million. New dealerships are being considered in the medium term," said Transaction Capital.
SA Taxi's insurance business is the main component of non-interest revenue, with gross written premiums growing 20% to R823 million driven by new customer acquisition.
The insurance business has more than 30 000 clients.
SA Taxi Protect is also broadening its product offering (currently comprising comprehensive vehicle cover, passenger liability, instalment protection and credit life cover) with SA Taxi's insurance clients now holding more than two insurance products per client. New products are being developed in collaboration with SANTACO.
With SANTACO as a shareholder, SA Taxi aims to leverage its unique position to drive growth over the medium term, to the benefit of taxi operators and the broader industry, said Transaction Capital
"This will include identifying commercial opportunities such as accessing cheaper funding, expanding its market share through a finance product for low-risk customers and designing bespoke minibus taxi insurance products."