The Spar Group has launched The Food Stall, which is rolling out across the deli service counters across many stores nationwide. The first Food Stall served customers in Ladysmith KwaZulu-Natal in April this year and since then, Greendale Superspar, Nqutu Superspar, Hillcrest KWIKSPAR and many more Spar stores have adopted this concept.
According to Pianca Meintjies, Spar Group Home Meal Replacement Manager, The Food Stall will be a continuous focus for SPAR, with more being launched weekly. She adds that The Food Stall at Spar is community-focused and aims to provide customers with so many choices that they don't have to shop anywhere else.
"The Food Stall at Spar offers a unique experience at every store, but in essence, it's a range of freshly prepared, tasty and convenient foods."
Spar has always featured in the deli space and traditionally deli service counters have been a saving grace for time-strapped customers that are looking for a hearty meal. Now that stores have started to adopt The Food Stall at Spar , Pianca believes that it will quickly become a customer favourite. "Not only can you expect great food, but the range is also exciting – from the best, tastiest local options available to the more traditional takeout meals – from McCOY Pies and Chikka Chicken to Fire & Grill, Pizza and many more."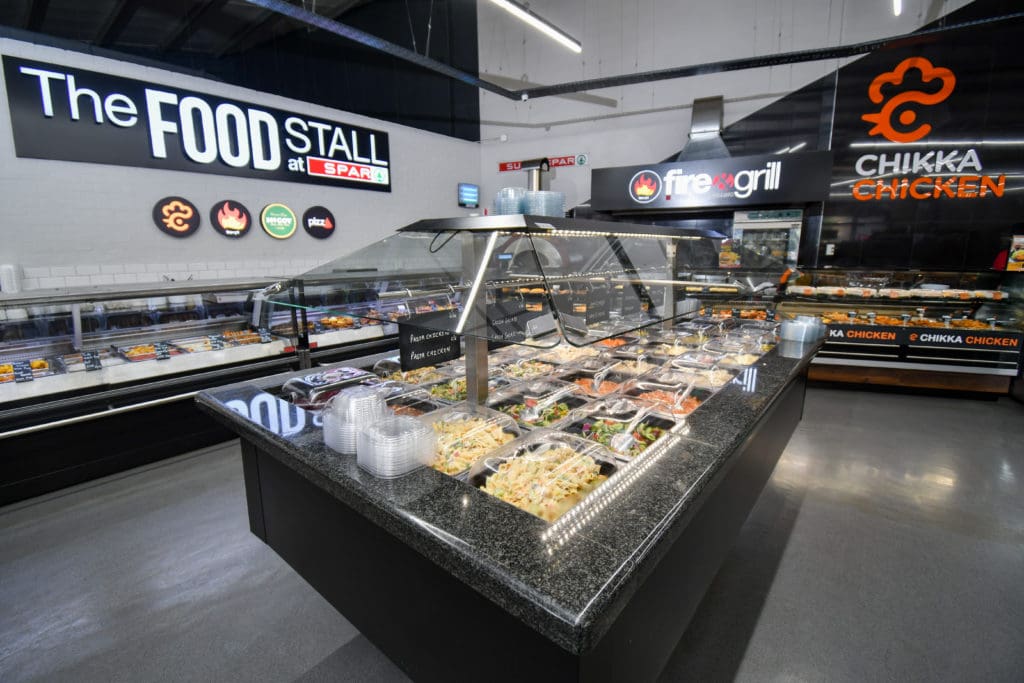 Food Stalls are usually associated with markets and street food and Spar has been truly innovative to bring these authentic, highly-original eating experiences under their roof, available to you every day, in an environment you already know and love – your local SPAR. "Our customers are family and we want to bring wonder, intrigue, anticipation and adventure back to their meals – The Food Stall is the perfect way to deliver this and we can't wait until all our SPAR stores are wowing their customers with new tastes, personal touches and unexpected delight," adds Pianca.
Convenience food packaging has long been a contentious issue and Spar has solved that one too; along with the launch of The Food Stall at Spar comes the introduction of a more environmentally-friendly packaging solution. "It's important to us that we offer responsible convenience, and that's why we've invested in sourcing better packaging options available to all stores to complement the launch of their Food Stall concept in-store. Pop into your local Spar to see whether their Food Stall is up and running; we'd love to spoil you and your family with great new choices and exciting flavours," Pianca concludes.