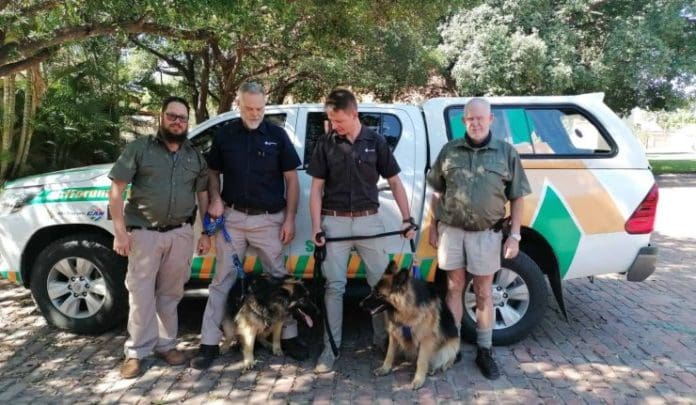 AfriForum has launched its "Border Watch Initiative" complete with sniffer dogs to stop Zimbabweans from crossing illegally into South Africa.
The organisation said the unprecedented move was in response to a documentary on border jumpers.
"The Border Watch Initiative was established following the enormous support the organisation received after the premier of the documentary film Open Borders," said AfriForum in a statement issued Tuesday by its campaigns manager, Jacques Broodryk.
"The documentary depicted how poorly border control between South Africa and Zimbabwe is applied and how AfriForum's neighbourhood watches in this border area helps to safeguard the community."
AfriForum added: "The Border Watch Initiative's first course of action was to donate two sniffer dogs to AfriForum's neighbourhood watch in Musina.
"Both these dogs (Duke and Hailey) are trained trackers and Duke is specifically trained to sniff out firearms and drugs."
Broodryk added: "Duke and Hailey will be valuable assets to strengthen the Musina neighbourhood watch's methods to catch smugglers and seize their smuggled goods.
"The smugglers use the areas with dense bushes to cross the border and these sniffer dogs will assist the neighbourhood watch to quickly get on the trail of the smugglers.
"Duke will also help law enforcement during roadblocks because of his specific skills to sniff out firearms and drugs."
Broodryk said the Border Watch Initiative will also focus on strengthening and supporting AfriForum's safety structures across the country.
Various individuals and organisations have already indicated that they would like to sponsor equipment for the neighbourhood and farm watches in border areas.
"Between June and September of last year alone AfriForum's neighbourhood watch in Musina helped to seize smuggled goods with a total value of more than R12 million.
"This has a substantial impact on the illegal activities and, according to information we have received, some of these smugglers have thrown in the towel because of the resilience of our volunteers.
"This is an enormous success."
Broodryk said AfriForum has 155 safety structures across the country and more than 10 000 volunteers that play a massive role in safeguarding their communities.