Instagram has announced new tools to filter abusive Direct Messages (DMs) and to prevent someone you've blocked from contacting you from a new account. The tool will allow users to automatically filter out DMs requests containing offensive words, phrases, and emojis.
The tool is targeted at people with larger followings, who have faced abuse in their DM request inbox from people they don't follow.
This tool focuses on DM requests, because this is where people usually receive abusive messages – unlike your regular DM inbox, where you receive messages from friends. It will work in a similar way to the comment filters we already offer, which allow you to hide offensive comments and choose what terms you don't want people to use in comments under your posts. You can turn both comment and DM request filters on and off in a new dedicated section of your Privacy Settings called Hidden Words.
The company says it worked with "leading anti-discrimination and anti-bullying organizations" to develop a predefined list of offensive terms that will be filtered from DM requests when the feature is turned on.
The company says this new feature is designed to help protect you from potentially offensive or abusive DM requests, while also respecting your privacy.
Instagram says the new feature will be rolling out to several countries in the coming weeks, though it did not specify which countries those are. The company plans to expand to more countries in the next few months.
A new way to protect you from unwanted contact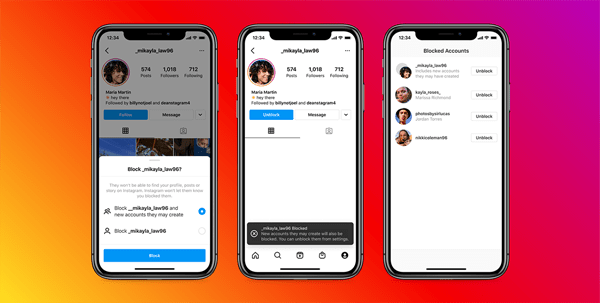 The company also said it is making it harder for someone who you've already blocked from contacting you again through a new account.
"With this feature, whenever you decide to block someone on Instagram, you'll have the option to both block their account and preemptively block new accounts that person may create. This will be available globally in the next few weeks," it said.
This is in addition to our harassment policies, which already prohibit people from repeatedly contacting someone who doesn't want to hear from them.
"We also don't allow recidivism, which means if someone's account is disabled for breaking our rules, we would remove any new accounts they create whenever we become aware of it."