Safaricom's mobile money service M-Pesa, Nigeria's e-commerce sites Jumia and South Africa's Takealot.com are picked as 100 tech challengers by global management firm Boston Consulting Group (BCG).
BCG identifies 100 "tech challengers" that have already grown into powerful forces in technology and other industries.  Their impact is being felt in their home markets, regionally, and internationally.
They have generally weathered the COVID-19 crisis well, with many showing increases in both customers and frequency of usage.
While previous emerging markets tech leaders came predominantly from China, the current generation is much more geographically diverse, encompassing Africa, Asia, Israel, Latin America, Russia, Turkey and the UAE. More than 10,000 tech companies have been founded in emerging markets since 2014, 47% of them outside China.
"Although Africa currently has the smallest representation among emerging market tech challengers, sitting at less than five percent, our challengers in Africa have average revenue of approximately 500 million USD and are growing about 11 times faster than S&P 500 Tech companies – showing their potential for growth," says Stefano Niavas, Managing Director and Partner at BCG Johannesburg.
"Africa is likely to take more share in the next phase of the emerging markets tech landscape, with the majority of activity concentrated in South Africa and Nigeria. Nigeria, though small, is one of the fastest growing hubs by number of new tech companies founded in the last 5 years – nearly twice as fast as China and 2.5 times as fast as the United States."
The BCG tech challengers in Africa are active in multiple sectors that span both B2B and B2C. Two-thirds of the challengers overall are focused on consumer apps or services – and all three of Africa's key challengers, mobile money service M-Pesa and e-commerce sites Jumia and Takealot.com, fall into this category.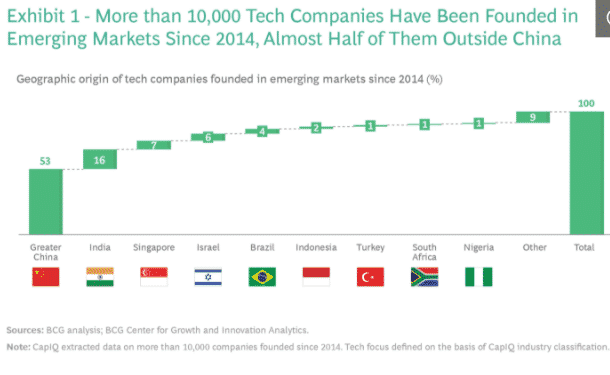 These African tech challengers follow multiple paths to growth and success – and are reinventing the industries they operate in, at times skipping entire development stages, like M-Pesa – as well as innovating business models while addressing problems specific to the African landscape.
Many are using their capabilities to solve problems such as limited financial inclusion and limited access to education. In doing so, they often leapfrog more mature markets, for example, taking unbanked populations straight to digital banking. As an example, M-Pesa moved towards digital/mobile money transactions instead of traditional banking to serve a large unbanked population first in Kenya and then in other countries across the continent.
They also reimagine the value chains of their industries, rethinking how players collaborate to address inefficiencies and deliver better outcomes to customers. In reshaping competitive dynamics, incumbents are starting to recognise that they stand to gain significantly by making challengers their allies – this is why Western Union and Visa have partnered with M-Pesa, for example.
The rise of African tech challengers has reshaped competitive dynamics, with many battlegrounds becoming visible locally – for example ecommerce, as well as on a regional scale – such as mobile money. Many are transcending industry boundaries and the online-offline divide by building out extensive ecosystems through aggressive partnerships.
"African tech challengers are formidable and disruptive competitors, willing to attack new sectors beyond their core businesses," says Niavas. "At the same time, their tendency to work through ecosystems makes them more open to collaborative models than many of their predecessors.  Incumbents need to develop strategies to deal with this new source of competition. Do they try to beat them or join them?"