The arrival and rapid rise of the digital economy presents South Africa with an opportunity to reverse the pervasive, triple scourge of unemployment, inequality and poverty. But to harness the promised benefits of digitalisation, South Africa must create a commercial and regulatory environment designed to extract those benefits and distribute them in a way that ensures inclusive economic growth.
The South African competition watchdog, the Competition Commission, has published a paper title "Competition in the Digital Economy" which aims to inform its government and corporate stakeholders of its approach to regulating competition in the digital economy.
As an open economy, South Africa has seen the same shifts to a digital economy as observed elsewhere. The openness has resulted in many global tech giants establishing a commanding position in the domestic digital economy, especially in search and social media despite no substantial investments in the country.
In some other areas where investment is required, either global companies have been absent (such as Amazon in delivery) or they have moved rapidly to establish a domestic lead before their business models are copied (such as Uber or Airbnb).
In more localised markets such as classifieds (horizontal and verticals) and delivery infrastructure, local start-ups and larger local tech firms have competed to control the leading position with consumers. They have been joined by existing businesses seeking to make the digital transition and building on pre-existing non-digital positions.
Unfortunately, for all its promise, the digital economy in developing countries already threatens a new era of global concentration and, with it, the further marginalisation of vulnerable countries and businesses.
Therefore, intentional regulation is required to avoid outcomes that could harm the development of small businesses, consumers and ultimately the economic growth so needed in South Africa's developing economy.
"The need for intentional regulation has become all the more urgent with the advent of COVID-19 which is set to move more products and services online at a rapid pace," said the watchdog in the paper.
South Africans participate in many digital platforms including search platforms, share-economy platforms and financial services.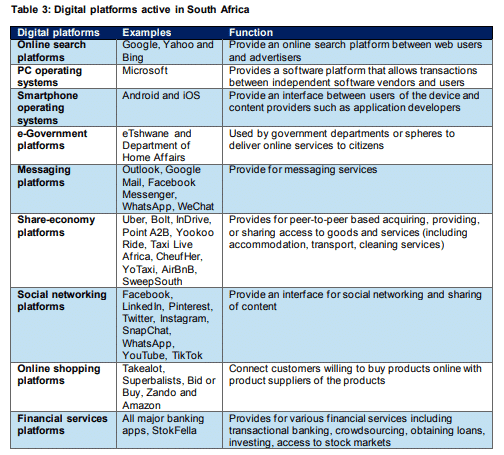 The most popular digital platforms around the world are widely used in South Africa, but internet usage takes on a local flavour in financial service platforms and e-commerce, where some traditional stores with an online presence – and Takealot – which is part of the Naspers group – dominate the scene.
South Africa's financial technology platforms are dominated by the big four banks with Capitec, TymeBank and Discovery Bank increasing their presence by introducing innovative lifestyle solutions. There are also numerous start-ups in the broader financial payments space that are simultaneously disrupting and enhancing South Africa's financial service offering.
"Although the digital economy operates globally with little regard for physical borders and local considerations, it remains in the interests of all South Africans to promote a competitive digital landscape that enables inclusivity rather than exclusivity, supports opportunities for work and that encourages the establishment and growth of local digital players," according to the commission in the paper.
Besides the competition issues raised in the paper, there are regulatory issues that link with competition policy. As mentioned, to achieve lasting benefits from the digital economy, the regulatory environment should be conducive to inclusive growth in the ways set out below.
The commission's paper states that South Africa must invest in digital technology and its infrastructure with a sense of urgency.
"Access to data services and indeed the digital economy remains highly problematic as there is a real threat of not just economic exclusion, but also exclusion from full participation in society," reads the report.
"Current plans to increase broadband connectivity in under-served communities, the rollout of 5G networks, the creation of an open-access network (WOAN) that provides access to essential facilities, infrastructure sharing and rapid infrastructure deployment, and digital terrestrial television are opportunities for growth in the ICT sector which should stimulate local manufacturing."
The country's competition watchdog proposes that South Africa avoid regulatory responses that distort markets. Regulations should adopt a technology-neutral approach, without differentiating whether firms traditionally operate their business or whether they make use of digital platforms. Commission advocates for regulatory responses that are geared at levelling the playing field and reducing regulatory barriers to entry and expansion.
The paper also states that while consumer protection law remains the main legislation to address potential big data harm to individual privacy – as opposed to competition law – personal information has become the currency with which consumers purchase services from digital markets where the product is "free", which makes the protection of personal information an issue that extends beyond consumer protection laws.
"This warrants a more collaborative effort across regulators in developing countries, especially where there are separate enforcement mandates, like in South Africa on competition, consumer protection and privacy. Hence, to better achieve the common goals and avoid inconsistent approaches, it is recommended strong cooperation and close dialogue between these institutions."
In the paper, the commission also argues that beyond protecting personal information, participants in the digital economy should take heed in commercial interactions with IT, service providers, to maintain and preserve their data sovereignty.
"They should impose minimum controls on the information being stored and hold firms accountable for what they do with the data and assign responsibility and accountability for specific databases," the paper explains.
The competition watchdog also calls for the updating of competition and industrial policy for the digital age to help start-ups to effectively compete with dominant platforms.
"Competition policy and law need to encourage and facilitate this innovation, whilst also ensuring these technologies are accessible to consumers," explains the watchdog.
Even though several companies operating in digital markets have been able to come on board to contribute solutions to the education concerns brought about by the national lockdown, the pandemic exposed South Africa's slow progress in harnessing the benefits of the digital economy. Undoubtedly, those with better connectivity have been faring better under COVID19 restrictions than those with no connectivity. COVID19 has thus highlighted the need for South Africa to speedily take up the reforms offered by the digital economy.
The commission also calls upon platform-based firms and other companies operating in the digital space to heed the principles of inclusivity and competition.
"Overall, the COVID-19 pandemic offers an opportunity for stakeholders to fast-track the implementation of solutions to South Africa's intractable problems; the pandemic also offers an opportunity to reset the socio-economic contract among South Africans. Business, Government and the competition authorities can respectively and together, reset their agendas in a manner that enables us to realize the digital future imagined."