JSE-listed pay-TV group Multichoice has today published its integrated annual report detailing the salaries of its top executives.
MultiChoice Group includes MultiChoice South Africa, MultiChoice Africa, Showmax Africa, and Irdeto.
The company competes with global video-on-demand players like Netflix, Amazon, Facebook and iFlix continuing to offer alternatives in our territories. In the pay-TV
market, operators such as StarSat, ZAP TV, Zuku TV and Azam TV all have the necessary
broadcasting knowledge and experience to compete with MultiChoice.
Improved mobile broadband penetration also facilitated growing competition in the provision of OTT services with the entry of StarTimes ON, iRoko TV, Cell C black and Vodacom VideoPlay.
In the 2019 financial year despite stiff competition, MultiChoice's executives helped the company to record trading profit of R7 billion.
The group serve more than 15.1 million active households across the continent.
The table below details the remuneration section of MultiChoice's latest financial report.
The remuneration package of the executive directors and prescribed officers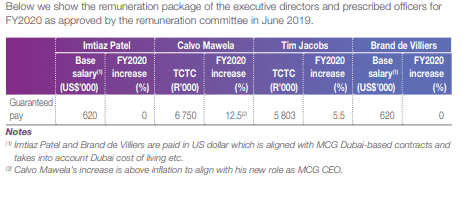 The incentive bonus paid to the executive directors 
Executive director and prescribed officer single figure remuneration for FY2019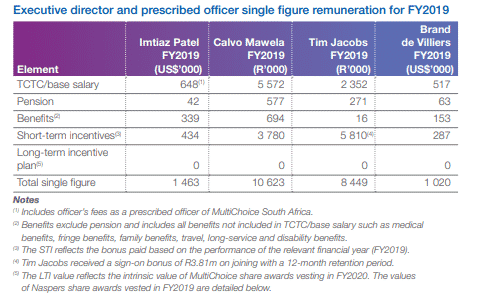 "We delivered well on that objective during FY2019 by limiting overall organic cost increases while increasing investment in local content and navigating cost pressures from suppliers, driven by continued competition for key content," said Calvo Mawela, CEO of Multichoice.
"This is positive from an operating leverage perspective."
In the year ahead, Multichoice plan to continue investing in local content and expand its OTT offering.
"In SA, our focus will be on delivering growth in the mass market, retention in the premium segment, stable margins and strong cash flows," said Mawela.
"In the rest of Africa, we will continue to drive scale to return the business to profitability and Irdeto is looking to increase its market share in media security and connected industries."