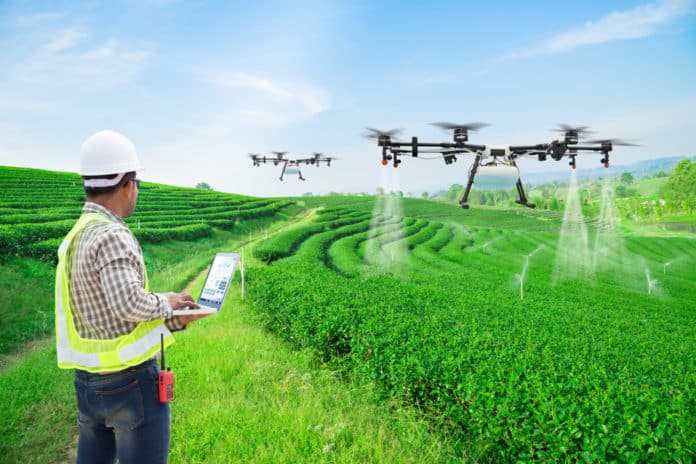 Aerobotics, South Africa-based agritech startup, is eyeing growth opportunities in Europe as the company seeks to deploy its innovative artificial intelligence solutions to help farmers look at their farms in a smart way using drones and data analytics.
While our operations headquarters is based in Cape Town, South Africa, a few months ago, we set up our commercial headquarters in Los Angeles, USA," Tim Willis is Aerobotics' COO, told TechFinancials.
To date, Aerobotics have 10 000 hectares of paying clients in the USA, said Willis.
When asked whether the startup was planning to expand into Europe, Willis said: "In terms of Europe, we recently appointed a new head of Europe to drive our growth strategy in that region."
He added that on 13 May 2019, Aerobotics concluded a market engagement trip in France which has resulted in the establishment of trials with vineyards per region and a partnership with the leading viticulture college in France.
The company believes its innovative Aero solutions are globally relevant to growers in all markets.
"This has what has made our product and company so scalable," he said.
Its scouting app, Aeroview InField, is a new technological dynamic to help farmers assess crops. Enabling easier farm and task management, the app benchmarks advanced crop monitoring with clear visuals that are often overlooked when scouting with the naked eye. The app has been designed on the backbone of an existing app, Aeroview Scout.
The biggest change from the initial app, Aeroview Scout, is that you can add more than one marker per tree. This allows for multiple data points and, therefore, more precise data capturing. Markers can be accompanied by custom notes, photos taken on your smartphone and qualifying data of in-field problems.
Showing its potential for adaptation, the new app can facilitate upcoming software developments such as Drone Scouting.
Drone scouting allows farmers who own and fly drones to collect data when needed. The tool is used to control the drone and position it within a five-meter range of stressed trees to capture a 360-degree visual of each tree. Thereafter, the data is interpreted to identify problems without farmers having to walk into the orchard.
Asked whether the company believe its solutions will be embraced by farmers in Europe and the USA, Willis, said: "Yes – market traction speaks for itself in the global markets. We've seen a quick adoption from citrus growers in the USA.
"In France, there appears to be a specific interest in applying the technology to forestry and vineyards. In Portugal, we have seen quick adoption by olive tree growers."
He added: "In South Africa thus far, users are predominantly citrus farmers. 40% of South Africa users are macadamia nut farmers, of which 10% are apple farmers in South Africa."
He added that the agritech startup is trying to expand as fast as it possibly can.
The startup is currently in 18 countries including Mozambique, Italy, USA, France, Zimbabwe, Russia, and Germany.
"To date, we have covered more than 100,000 hectares of farmland. More than 27 million trees have been captured by Aerobotics' AI systems," explains Willis.
The company recently raised $4.5 million and he said the startup will take on new capital as and when is required.
Few weeks ago, Aerobotics was named as Africa's most innovative startup.
"Winning the AfricArena VivaTech Challenge in 2018, and now the President Macron Tech Award (last week), strengthens our expansion springboard into Europe and other continents," Willis said.
"It further validates our ability to scale around the world and more market credibility."