Raisibe Morathi, group CFO at Vodacom, has been named South Africa's CFO of the Year at the 10th Annual CFO Awards.
The CFO of the Year was announced on Thursday,16 November, at the conclusion of the annual gala event for finance executives, held at the spectacular Polo Room at the Inanda Club in Sandton, Johannesburg.
Raisibe was the big winner during the "Oscars of finance", which celebrated its special 10th edition this year. She walked away with three of the ten prizes, including the CFO of the Year title, the Strategy Execution Award and the High-Performance Team Award.
She was, however, unable to attend the evening and Vodacom South Africa FD Refilwe Nkabinde accepted the Awards on her behalf.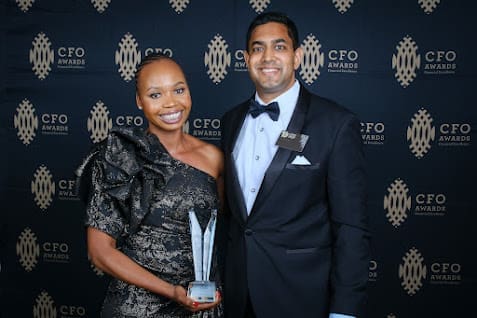 Raisibe is charged with ensuring the Vodacom Group keeps growing, and she has led several initiatives to achieve this. She is also tasked with capital allocation, incorporating a budget of R16 billion per annum. She leads a team of around 900 people in the finance vertical across nine markets in which Vodacom operates, and as a project of a personal choice, she is the chairperson of the Vodacom Women's Forum.
The title of Young CFO of the Year went to Aneshree Naidoo, CFO at Webber Wentzel. Her passion for leveraging technology and commitment to change management in finance has played a huge role in her success this early in her career. Aneshree was the co-sponsor of a firmwide cloud-based ERP implementation, and has championed the implementation of robotic process automation (RPA) and predictive analytics. She has also expanded on the use of metric measures to track lead indicators supporting the various B-BBEE evaluation pillars.
Isaac Malevu, CFO at the Industrial Development Corporation (IDC), was awarded the Public Sector CFO of the Year title, as well as the Transformation & Empowerment Award. He lists a notable achievement as turning the entity's R7 billion operating loss into an R6 billion profit and sustaining that profitability for three years in a row. As a leader, Isaac takes great pride in fostering an environment that encourages collaboration and teamwork. Also the chair of the Employment Equity Forum, he has a zero-tolerance policy for dishonesty and fraud, and is always vocal about his support for consequence management including forensic investigations when necessary.
Full list of CFO Awards 2023 winners:
CFO of the Year – Raisibe Morathi, Group CFO, Vodacom
Young CFO of the Year – Aneshree Naidoo, CFO, Webber Wentzel
Public Sector CFO of the Year – Isaac Malevu, CFO, IDC
Strategy Execution Award – Raisibe Morathi
Transformation & Empowerment Award – Isaac Malevu
High-Performance Team Award – Raisibe Morathi
Compliance & Governance Award – Harry Kellan, Group CFO, FirstRand (CEO of FNB from 1 April 2024)
Finance Transformation Award – Sharon Naidoo, CFO, TransUnion Africa
Finance & Technology Award – Jan Hofmeyr, Group CFO, OUTsurance
Moving into Africa Award – Tsholofelo Molefe, Group CFO, MTN
The annual CFO Awards is organised by CFO South Africa, the organisation that connects finance executives through executive events, CFO Magazine, CFO.co.za and social media channels. By helping CFOs share knowledge, exchange interests and open up business opportunities, CFO South Africa proudly contributes to the growth of the country.
"This year marks an incredible milestone – ten years of recognising and rewarding excellence in finance leadership in South Africa," says CFO South Africa executive community director Georgina Guedes. "The 10th Annual CFO Awards has been a spectacular celebration, acknowledging the exceptional work done not only by this year's nominees and winners, but the nominees and winners of the last ten years as well. We at CFO South Africa are proud to have built this brand and this community – and look forward to celebrating for the next ten years, and many more after that."
Deloitte was once again the Principal Partner of the CFO Awards this year, and Deloitte Africa CEO Ruwayda Redfearn handed out the CFO of the Year Award. Deloitte Africa head of audit Eric Tshabalala handed out the Public Sector CFO of the Year Award and financial services team audit leader Rachel Nkgodi handed out the Transformation & Empowerment Award.
CFO Awards judge Ben Marx handed out the Young CFO of the Year Award and judge Claudelle von Eck handed out the High-Performance Team Award. And, in keeping with the recent launch of the CFO East Africa community, co-founder and community manager KC Rottok Chesaina handed out the Moving into Africa Award.
Other awards sponsors included Coupa, Ince and Workday. Ince MD of investor marketing Linda Buhler handed out the Compliance & Governance Award, Coupa Software area vice president Julie Tregurtha handed out the Finance Transformation Award and Workday financials lead Leslie Marie handed out the Strategy Execution Award.
Associate sponsors of the evening included Allan Gray, Caseware Africa, SoluGrowth and Transparent.
Further information on the other award winners:
Compliance & Governance Award – Harry Kellan (FirstRand)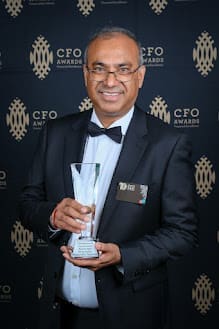 Harry is proud of the way FirstRand navigated the pandemic by recovering earnings and focusing on balance sheet protection whilst assisting customers and communities.
He shares the founders' philosophy to empower and be accountable.
Being the custodian of the performance management framework, he works with senior colleagues on disciplined allocation of financial resources and is deeply invested in creating superior returns for shareholders.
Over the decade, he has enjoyed the challenges of an increasingly complex and growing financial institution, learnings and personal development, particularly in shaping strategy and balancing outcomes for multiple stakeholders.
Finance Transformation Award – Sharon Naidoo (TransUnion Africa)
When Sharon joined TransUnion, she was tasked with leading and delivering P&L expansion targets, and partnering with exco in driving a strategy that addresses financial inclusivity on the continent. Two and a half years later, the company is in its third year of double-digit growth (14 percent). She has also grown the company's margins by 27 percent. She was also tasked with transforming the finance team from being highly transactional to a strong business partner. Sharon is very passionate about driving financial inclusivity across the eight markets in which TransUnion operates.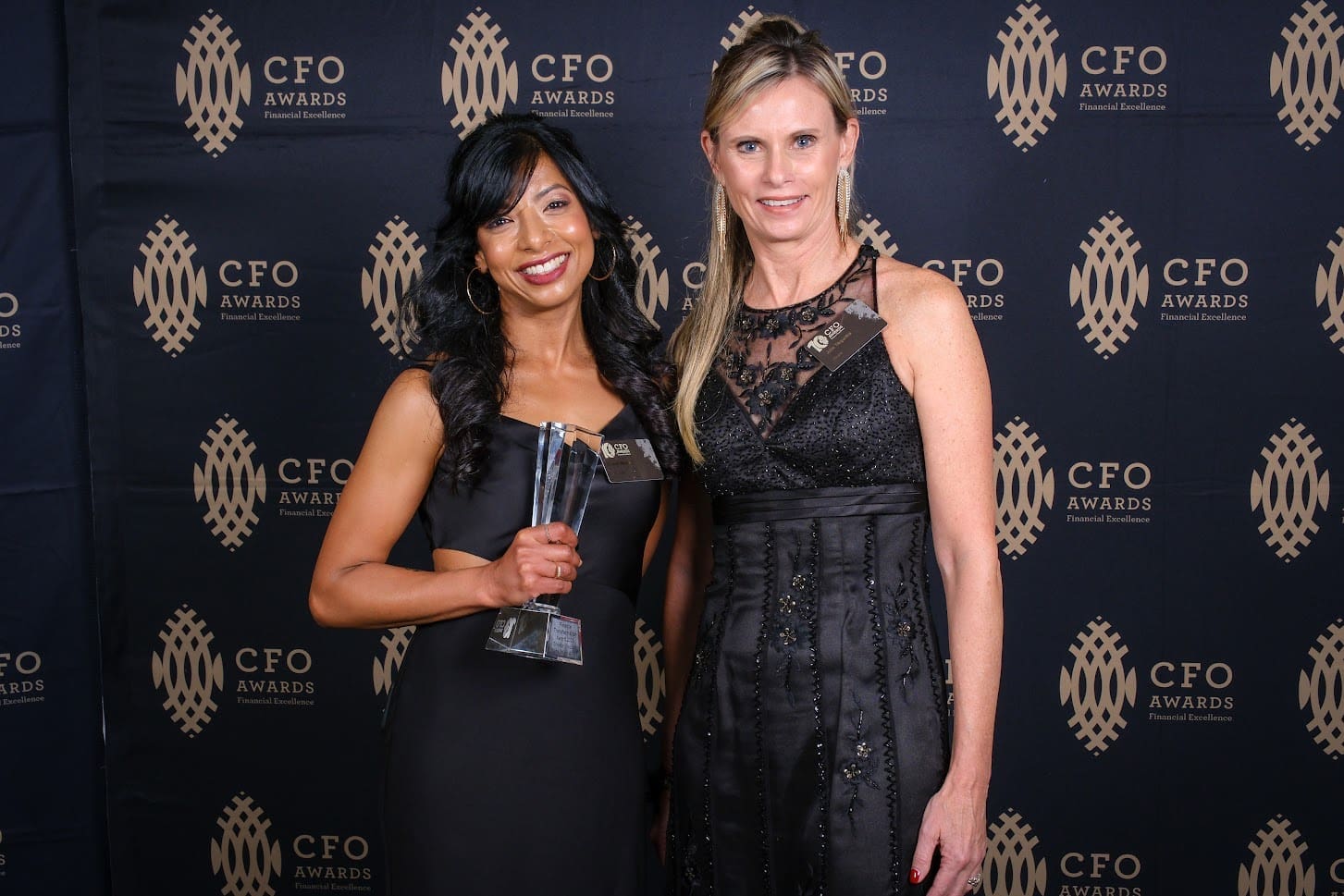 Finance & Technology Award – Jan Hofmeyr (OUTsurance)
Jan has been responsible for seeing OUTsurance through its listing transition. Over the past two years, he led Project Everest, which sets a vision to create a common finance reporting infrastructure for the global insurance group using modern cloud technology that enables finance modernisation. As OUTsurance looks to expand to Ireland, Jan has played a pivotal role in setting up the project, leading regulatory engagements and establishing a founding team. He is the chairperson of the Asset Liability and Capital committee as well as the Internal Risk and Compliance committee.
Moving into Africa Award – Tsholofelo Molefe (MTN)
Tsholofelo led the establishment of the executive committee finance and investment committee at MTN, which has played a crucial role in capital allocation decisions supporting the business strategy. She led efforts to strengthen the Holdco balance sheet, which saw leverage significantly reducing from 2.2x in 2020 to 0.8x by December 2022. She is involved in various other strategic projects, including the structural separation of the business, and portfolio optimisation, including difficult decisions to exit non-profitable markets. An important aspect of her role is driving finance transformation across the group, the establishment of a Finance Academy, and finance digital transformation.