Technology is changing how business is conducted, and companies such as Vodacom Financial and Digital Services are at the centre of this transformation.
Lenders have already taken to the Internet to loan out money and applications can be done online, even via smartphone or USSD code.
For those looking to get loans, this is just the beginning of exciting new things to come.
Vodacom Financial and Digital Services, a subsidiary of Vodacom South Africa, is positioning itself to be at the centre of that excitement.
Vodacom Financial and Digital Services have created Africa's first Super App with Alipay.
Vodacom Financial and Digital Services current payments brand VodaPay app, will be launched as the Super App.
VodaPay will be the central hub for its financial services and e-commerce offerings. It will be launched in the third quarter of this year, says Mariam Cassim, the Chief Officer of Vodacom Financial and Digital Services.
The Super App will offer services ranging from loans and savings, seamless QR and person-to-person payments, entertainment, and personalised shopping experiences.
These services promote greater financial inclusion.
The app will be zero-rated for consumers.
The Super App will bring bigger and smaller local retail brands across all key verticals into a massive digital mall.
In an interview with TechFinancials, Cassim said VodaPay presents vast opportunities for local developers.
"We will also be inviting the developer community because this is a great example for young developers to come on and assist us in bringing these merchants," Cassim said in an interview.
"Merchants in South Africa are at so many different stages of technology enablement."
Some merchants have embraced the digital world and already trade online and deliver goods right at your door.
However, there are still many who are not participating in the lucrative e-commerce market and they are losing billions of rands.
Some new merchants are just starting and not understanding e-commerce.
These merchants will need help with taking their businesses, products, and services to the e-commerce space.
She added that this would enable merchants to access many customers.
Big retailers are already positioning themselves to work with Vodacom Financial and Digital Services on its Super App.
In March 2020, Massmart, which owns Game, Makro, and Builders Warehouse, announced it would become an 'anchor tenant' on Vodacom's Super App.
The Walmart-owned retailer said this part of its plans to beef up its mobile shopping presence.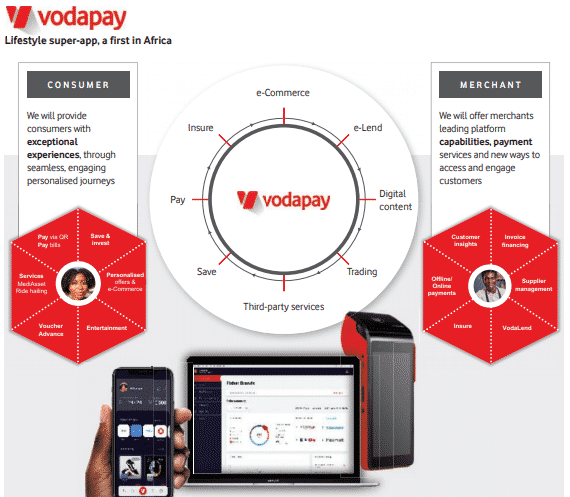 Alipay will provide Vodacom with FinTech experience from its knowledge of financial services and trade merchant relationships to Alipay's core capabilities in app development, data analytics and machine learning.
The Alipay App reaches over one billion users and 80 million merchants. It is the primary method used by buyers and sellers to complete payment transactions on Alibaba's platforms.
"An unparalleled technology enables us. The amount they are investing in the technology we will never be able to invest," Cassim explains.
"So, partnering with Alipay means we gain all the benefits of all the technological advances they are making daily.
"But also, the app is going to be great for our South African consumers in terms of everything being managed from one ecosystem.
"We see this as the ecosystem from where people pay from, where they lend, where they save and invest, where they also insure and from where they connect with friends and family.
"But more importantly, from where they can access a whole new world of e-commerce. So, one of the most powerful elements of this platform is what we term mini-programmes or apps."
This allows for millions of small and big businesses to be on the platform.
Cassim added that Vodacom Financial and Digital Services aim to bring as many SMMEs as they can to the Super App. This will allow them to position their products and services to Vodacom's 43 million customers in the digital world.
"Who we want to onboard on this platform. It will be an app not only open to Vodacom customers but non-Vodacom customers as well," says Cassim.
"This is very exciting because it talks to our commitment to enabling and opening the ecosystem.
"We will be retailing MTN, Telkom and Cell C airtime on the Super App as well."
Finally, Vodacom sees this Super App as a precursor to M-Pesa's evolution, supporting it in
connecting the next 100 million African customers so that no one is left behind.