South Africa is among the top countries with the highest perceived risk of job automation, with 53% of respondents saying that the risk of having their job automated has increased over the last year, says Rudi van Blerk, Principal and Recruiting Director at Boston Consulting Group, Johannesburg.
He added that this is more than the global average of 41% of respondents fearing job automation.
"Additionally, 31% of workers in the digitisation and automation fields have a significantly lower perceived risk of automation in South Africa than 46% globally."
As a result, South Africans are more willing to retrain for new jobs as they look toward the aftermath of the pandemic, according to a new study by Boston Consulting Group (BCG) and The Network, including local partner organisation CareerJunction.
The new report based on the study, Decoding Global Reskilling and Career Paths, is the third in a series of publications that BCG and The Network have issued about the pandemic's impact on people's work preferences and careers.
The report concluded that while the pandemic has posed a dramatic new threat to many jobs, questions about job security had already been on people's minds because of automation.
The economic uncertainty touched off by the pandemic comes at a time when workers in just about every field already have some level of concern about being replaced by technology.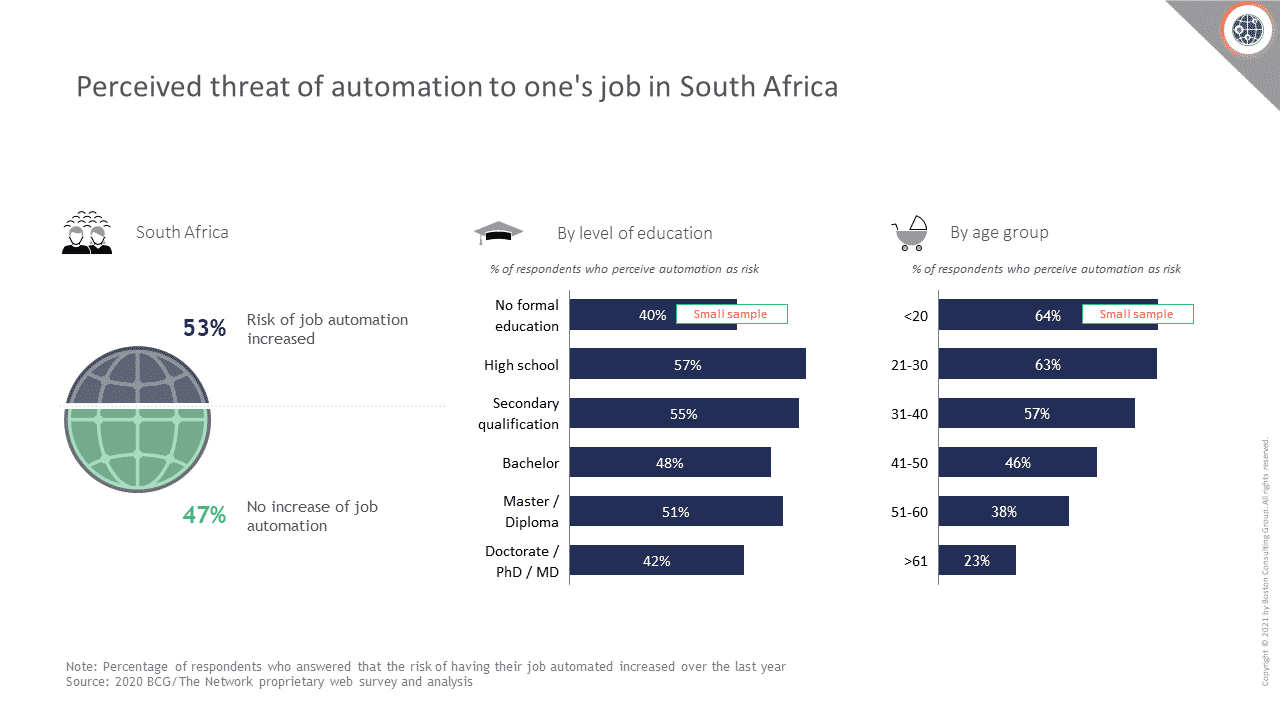 In the survey, concerns about automation were especially common among younger workers, with 46% of those in their twenties and 41% of those in their thirties saying they had become more worried since the prior year about technology putting them out of work.
The inverse relationship between age and concern about automation has a certain logic: younger respondents realize there is simply too much time left "on the clock" for them to be confident of not being there when the change comes, said BCG.
Education does not seem to have much of an impact on workers' automation concerns, except for those with advanced university degrees who feel that their jobs are much less replaceable. (See Exhibit 6 below.)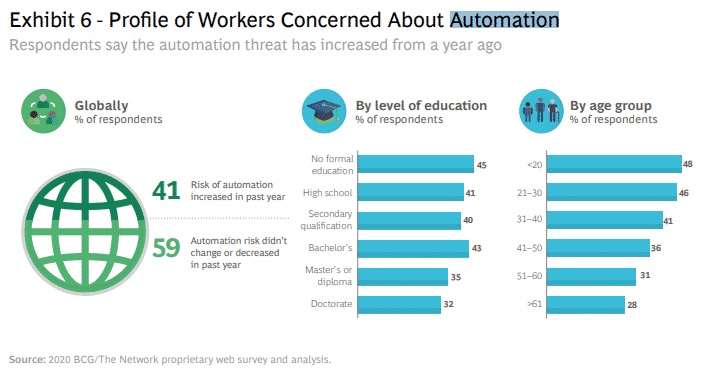 Just about every kind of worker, in every field, has some level of concern about automation. For instance, in New York's film production industry, more and more jobs are being threatened by technology, said Sophie Franc, a freelance production coordinator there, according to BCG.
The study discovered that video projects have less of a need for imaging technicians now that software is making it easier for nontechnical producers to get the effects they want. And the drivers who pick up equipment are starting to wonder when autonomous vehicles will take their place, according to Franc, who recently went back to school to ready herself for opportunities outside the field.
African respondents are also concerned, with workers in South Africa, Ivory Coast, and Cameroon ranking particularly high.
"With the pandemic, companies have started automating more jobs," said Cherif Ahmed Alexandre, an engineer from Ivory Coast.

"This is becoming a growing issue for me."
A Move Toward More Stable Fields
Digital and information technology top the list of potential next careers, probably because of the expanding opportunities in those areas and the generally high remuneration. For example, more than 20% of people currently working in artistic or creative jobs say they would retrain for a digital job, as do more than 20% of people currently working in consulting or media. Office and management jobs (such as marketing and human resources) are also seen as attractive next career steps, possibly because of the perceived ease of transitioning into those jobs for a variety of workers.
Workers have already been taking steps to upgrade their skills.
"71% of workers in South Africa spend a significant time on learning, which is slightly more compared to 65% of global respondents. Learning among the younger generation is similar in South Africa to global trends," van Blerk adds.
"However, learning is more widespread in the older generation compared to their global counterparts, with 74% of South African respondents aged 51-60 years old and 60% of respondents above 60 years old who spend a significant time learning. This is higher than the global average of 54% and 53% respectively."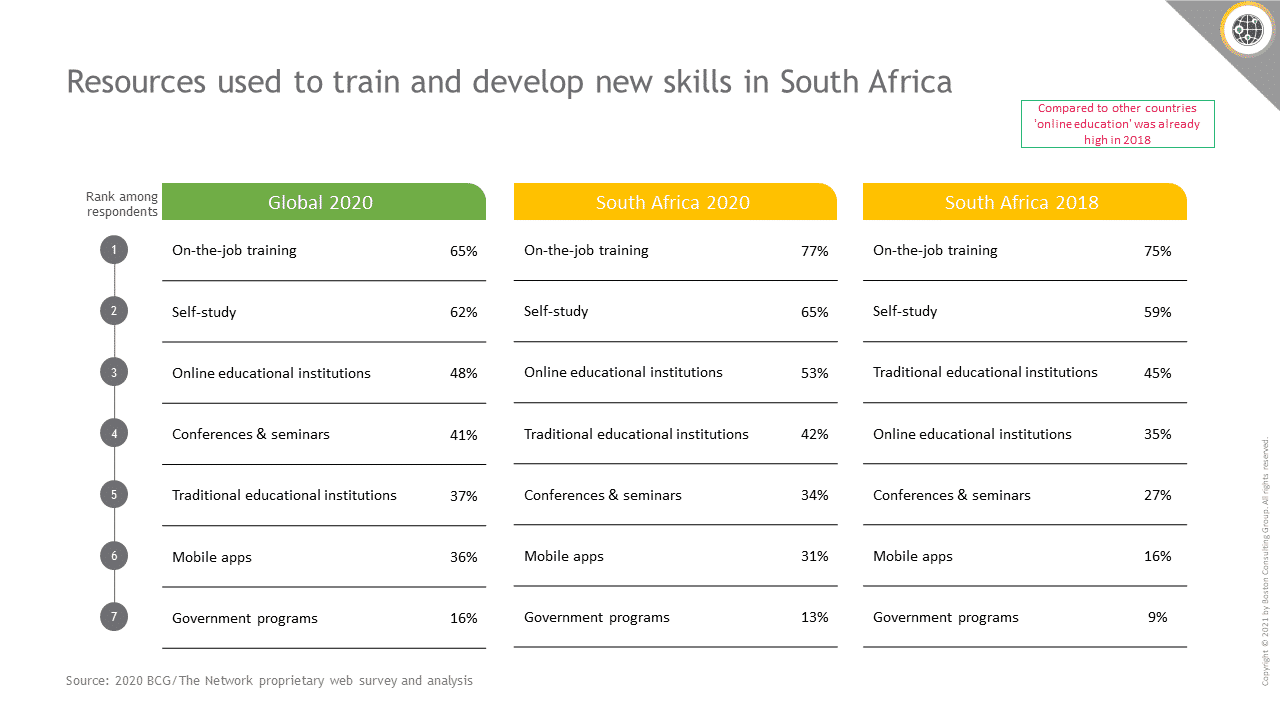 The approach to learning has evolved, however. South Africans' usage of mobile apps as a learning resource grew by almost 100% from 2018 versus 50% globally. This approach still trails on-the-job training – South Africa's more common primary learning resource according to 77% of respondents, and independent study (65%), today's most popular approaches to workplace learning, but in the era of the pandemic digital approaches have made inroads.
How Companies Can Prepare for an Uncertain Future
COVID-19 is just the latest global shock—after the 2001 terrorist attacks and the 2008 financial crisis—to create economic turmoil in the early years of this century.
"No one knows what the next shock will be, of course. But it'll come. Unpredictable challenges combined with the increasing march toward automation threaten organizational stability and will require adjustments from workers all over the world," said BCG.