Capitec Bank revealed that its retail clients using digital channels climbed by 28% to 8.6 million for the year ended 28 February 2021.
"We are the biggest digital bank in South Africa with 8.6 million active users of either the Capitec banking app, USSD channel or a combination of digital channels," the digital bank said.
Capitec Bank continued to grow its active client base during the past year by an average of 160 000 clients per month – a 14% increase to 15,8 million customers.
Gerrie Fourie, CEO of Capitec Bank, says the bank's agility and tech focus came to the fore during the COVID-19 pandemic. It acted swiftly to counter the impact on its clients and its business operations.
"We embraced innovation and digitalisation and so did our clients, and the permanent benefits and cost savings are expected to flow in the coming years.  Clients are now more than ever before motivated to use digital channels such as our new banking app as they set to benefit from the lower transaction fees and zero-rated data charges."
Capitec Bank also revealed that active banking app users totalled 5.3 million.
Its banking app was further bolstered through the ability to 'Scan to Pay' on any major QR code, its new virtual card for safer online shopping with no fees as well as the EasyEquities widget allowing clients to buy and sell shares seamlessly on their app. Its Send Cash option – for sending funds to family and friends – allows for cash collection at any Capitec ATM or partner store with R6.1-billion sent during the year.
Active USSD users increased from 4.9 million users at the end of February 2020 to 5 million users at the end of February 2021.
The total number of digital transactions performed grew by 36% to 1.1 billion.
Clients performed 526 million banking app transactions versus 327 million in 2020 and 536 million USSD transactions compared to 454 million in 202o financial year.
Although card machine transaction volumes decreased by 6% for the 6 months ended August 2020 due to the lockdown, a recovery occurred during the 6 months ended February 2021. The number of transactions increased year-on-year by 6% to 1 billion compared to 940 million in 2020.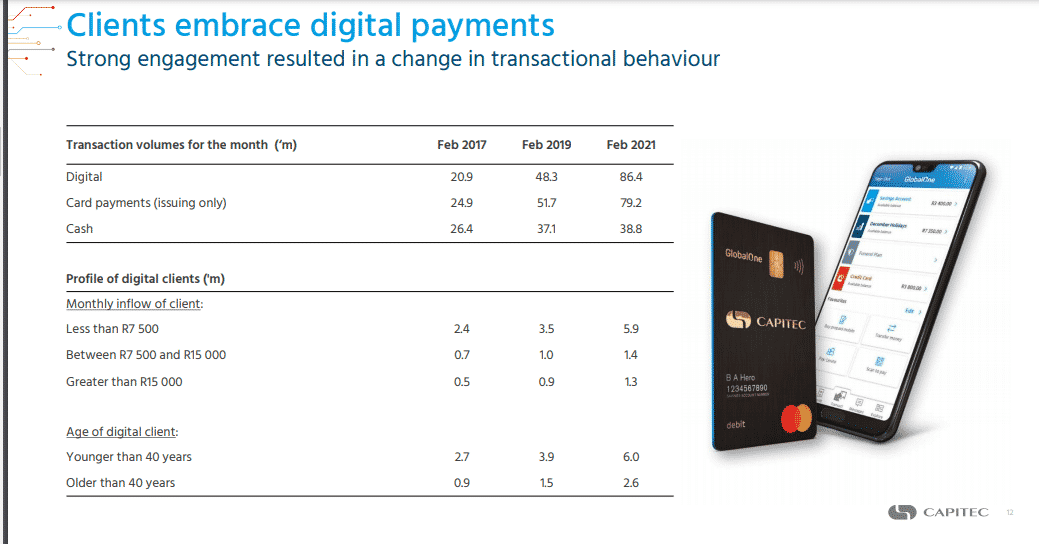 Fourie added, "It is a privilege to be able to help nearly 16 million South Africans simplify their banking so that they can live better. We believe the strong client growth we've seen over the last year is a testament to the fact that our offering of simplified, affordable banking delivered through personalised service is more relevant than ever."
The digital bank said it maintained its products' affordability by not increasing digital transaction costs, debit order fees, or the monthly administration fee on our Global One account in March 2021. This is the 3rd consecutive year without an increase. The cost of immediate payments via its app was reduced from R8.00 to R7.50 so that clients can conveniently perform instant real-time payments to clients of other banks.
Furthermore, the bank said cash handling and cash-in-transit expenses decreased by 10% year-on-year due to diminished demand for cash during the pandemic and the switch to digital banking by clients.
"We implemented paperless banking and this resulted in efficiencies and a cost saving of R60 million on printing."
The bank reiterated that its strategy remains to shift clients towards a digital banking platform underpinned by self-service.
"Our focus will be on digital e-commerce product opportunities and driving client behaviour."
Fourie says the bank will be upgrading branches to assist clients with shifting towards a digital banking platform, underpinned by self-service.
"We just launched the ability to open an account and join Capitec on our app by simply taking a selfie and scanning your ID, and the option to order your card for home delivery will launch in the near future."
He said he was excited about the Business bank and progress was being made to develop it into a digitally enabled, scalable solution, in line with the Capitec promise of simplicity and affordability.
Also read: Discovery Bank Says Well-Positioned For Growth and  TymeBank Attracts R1.6 Billion In Foreign Investment