Shoprite, Africa's largest food retailer, has rolled out temperature testing and mobile clinics for its employees as it continues to do everything in its power to ensure its stores remain safe during the COVID-19 pandemic.
Daily temperature testing as employees arrive at work and the rollout of mobile clinics follows the issuing of plastic face shields for employees last week, and stringent hygiene and sanitising protocols that have been in place across all of its stores, distribution centres and offices to keep the shopping environment virus-free.
Those with high temperatures will visit the Group's mobile clinics for a consultation and, if necessary, will be referred for further testing. Employees of merchandising, security and cleaning companies will also undergo temperature scanning.
"We continue to take proactive steps to protect our employees and customers while we provide an essential service to supply food to the nation," said Shoprite Group CEO, Pieter Engelbrecht.
Employees wear face shields that are sanitised on the hour and at all till points staff also sanitise till surfaces, including pin pads, and their own hands. Social distancing is strictly monitored and security personnel control the number of customers that enter stores and limit entry if necessary.
Furthermore, stores have prioritised quick entry and speedy check out for all healthcare and law enforcement personnel, and have allocated dedicated till points for elderly and vulnerable people.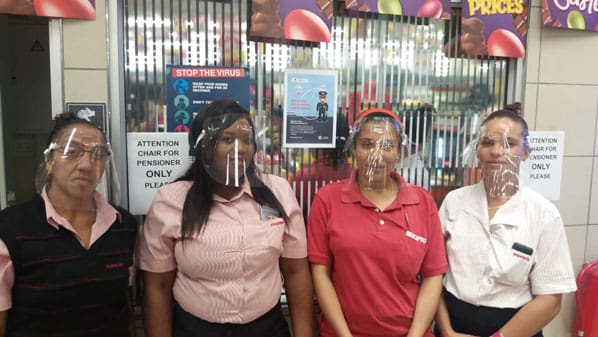 Also read: Shoprite Workers Are Getting a R102-m 'Appreciation Bonus'
Shoprite has announced a once-off R102 million appreciation bonus for its shopfloor and distribution centre employees to thank and support them for their tireless efforts to feed the nation in these unprecedented times.
The largest private employer in South Africa said this follows President Cyril Ramaphosa's call on larger businesses, in particular, to take care of their workers during this period and to marshal every resource and their every energy to fight this epidemic.
Supermarket employees are at the forefront of serving and safeguarding customers by implementing the group's strict hygiene measures while distribution centre employees are key players in the retail supply chain to restock stores as quickly as possible.