For seven years now, the BMW i3 has played the role of iconic ambassador for electric driving pleasure, sustainability and intelligent connectivity in urban areas. These qualities have helped to make it the world's best-selling electric car in the premium compact segment.
At CES 2020, the BMW Group has unveiled an interesting version of its compact i3 electric city car called the Urban Suite.
The BMW i3 Urban Suite showcase a mobility experience tailored entirely to the passenger's individual needs.
To achieve this, a standard BMW i3 underwent a complete transformation (with only the driver's seat and dashboard left untouched) so that its interior now has the relaxed feel of a boutique hotel.
The German manufacturer said in a statement that the aim was to create an inviting space with a high feel-good factor in which to spend time – the perfect place for relaxing, enjoying in-car entertainment or focusing on work in a laid-back setting. "This has been achieved by including, among other things, a large, comfortable seat with footrest, a screen that flips down from the headliner and a personal Sound Zone."
The company added that the overriding objective with the BMW i3 Urban Suite was to turn the interior into an experience for the passenger, rather than just restyle it.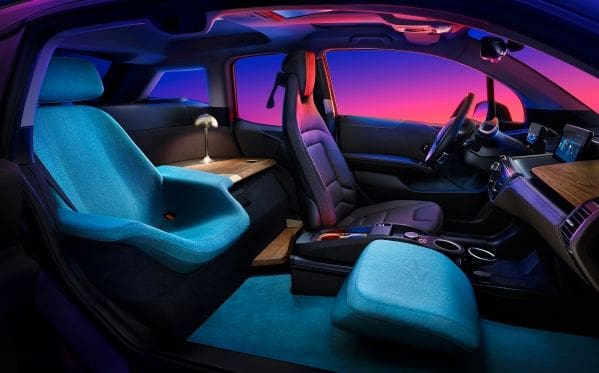 "Leather has been largely dispensed with in favour of fabrics and wood instead. There is no rear bench seat in the BMW i3 Urban Suite, its place taken by an amply sized, petrol-coloured lounge chair offering the ultimate in seating comfort," said BMW.
To ensure passengers can relax in exceptional comfort during a journey, stowage space is likewise in ample supply onboard the BMW i3 Urban Suite. Features include a clothes hanger for jackets, blazers and coats, a storage tray between the driver's seat and wooden table – which is large enough for a bag or laptop – and a pair of thermoelectric cup holders in the centre console that can warm drinks up or cool them down. A screen flips down from the headliner when required to create an optimum set-up for working or entertainment. This means that passengers can now watch their favourite shows and movies via Amazon Fire TV for an integrated entertainment experience that showcases what the future of rear-seat entertainment could look like.