For every person, the definition of success differs, and the same goes for businesses. Success is measured using different variables based on the individual goal of the entrepreneurial venture.
These goals are set at the early stage of the business and used to gauge the growth and success of the entrepreneurial venture per time. The importance of defining success for your business venture at its startup stage cannot be undermined.
Success can be defined based on long-term and short-term goals, and these goals are achieved through well-thought-out strategies of the process and end-result.
Without prior identification of what success means to your business, it will be challenging to direct efforts, resources, and time in the right direction and measure business growth.
For some entrepreneurs, success in a business venture can mean various things, such as increased sales, lead conversion, or growing customer base and loyalty. On the other hand, it could also mean improved brand recognition or building an active online community.
It is vital that you define what success and accomplishments mean to your entrepreneurial venture per time. This will help you sustain and measure business growth based on your goals and needs at every point.
How to Define Success For Your Entrepreneurial Venture
Define your goals
This is the first and most important step to defining and deciding what success means to your entrepreneurial venture, especially at the startup stage. For any startup to thrive, goals and objectives must be put in place. They are dependent on the size of the venture and the mission and vision of the business.
These goals define the trajectory of your business venture and help to streamline efforts and activities.
Although the ultimate goal of every business is to meet the needs of its customers, there are several other goals that are specific to each business.
In addition to this, business-specific goals are divided into component-specific goals, which are interdependent. For these goals to be instrumental to growth, they must be
Time-specific 

Achievable 

Practical

Measurable 

Well-defined 
Without these qualities, your business goals are less likely to be met and success, challenging to achieve.
Separate goals into short and long-term
Entrepreneurial ventures are usually long-term, and creating strictly long-term goals can affect productivity, creativity, and success levels. It is much easier to achieve business success when goals are broken down into smaller ones.
A convenient and effective way to do this is by dividing goals into short and long-term business goals. As the name implies, short-term goals refer to goals that are meant to be met within a short period. These are baby steps taken to achieve long-term goals.
For example, short-term goals for a fashion designer can include learning new design techniques, creating new clothing designs, increasing sales, etc. These goals may change over time depending on the market trends and needs of the customers and the company.
Long-term goals are those created to be attained within a long period. They are usually bigger, complex, and require months to years of planning and strategizing to reach.
Short-term goals allow entrepreneurs to measure progress and business success at every point. They also give an idea of how close business owners are to achieving long-term goals.
Attainment of short and long-term goals helps in defining success in an entrepreneurial venture.
Draw up plans and strategies for each goal 
Goals set can only be achieved through the right strategies. The plans and strategies directed at goals are dependent on the timing and desired quality of results.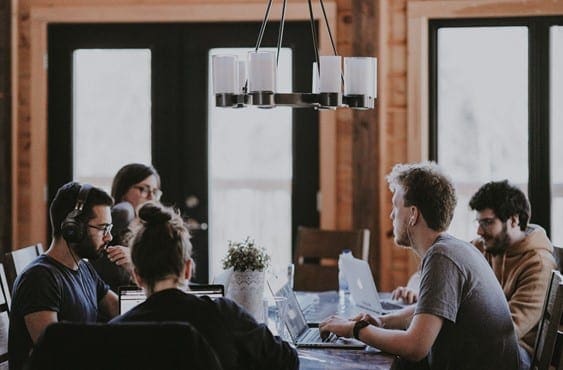 With the evolution of the internet and technology, this has been made easier. Certain goals can be reached by creating and working out strategies through online tools.
For example, automation tools can be used to increase productivity through lead development, conserving resources, and increasing return on investment. Devising an effective strategy towards business goals and objectives allows for you to remain competitive and attain success as it relates to your business per time.
Develop a standard for measuring success
Creating a standard for measuring the success of an ongoing venture, goal or initiative is key to the overall success of your business. Measuring success is a means of validating your definition of success in your entrepreneurial venture.
The standard developed and adapted is largely dependent on the type of goal that was initially set.
Because of the spontaneity of business, it is crucial that you consistently measure your venture's performance to assess achievements and overall success. Your business's success and achievements can be measured using metrics such as
Financial Statements – Monthly, bimonthly, quarterly, or annual net income/profit.

Sales volume and frequency

Customer satisfaction, retention, and loyalty

Growth of customer base

Personal Satisfaction

Employee satisfaction (if any)

Customer reviews and feedbacks
Business goals and performance can also be measured using key performance indicators (KPI).
5 Keys to Building A Successful Business Venture
Achieving success goes beyond defining success in your business venture. Several other factors influence the outcome of your business. As you build your entrepreneurial venture, you must understand the key factors that enhance growth and ultimately promote success.
Without these keys, your startup is less likely to sustain growth, remain in the competition, or make significant accomplishments as it grows. Some of these keys include.
Organization and effective planning

Good Leadership

Team development

Financial knowledge

Effective marketing and customer-based strategies
These, among several other factors, have a significant impact on your business's growth and success. However, certain key elements have the most impact depending on the type of business venture and its stage of development.
For instance, startups at the seed or early development stage require critical factors such as marketing, product development, and financial resources to thrive.
Conclusion
The definition of business success varies for different entrepreneurs and businesses based on several factors. Your description of success in your entrepreneurial venture depends on its peculiar needs, type of business, and you – the owner.
However, success, regardless of what you define it as, cannot be achieved without an informed understanding of your business's goals, mission, and vision.
Defining success for your startup involves defining and developing a plan and effective strategy that enables you to achieve the set goals. This keeps you on track and allows for definition and unification of purpose and goal in your company.
References
Businessnewsdaily: Defining business success
Smallbusiness.chron: What defines a successful business? Running a business
Businessnewsdaily: Entrepreneurs Define the Meaning of Business Success
Toughnickel: Factors that contribute to business success
About AbstractOps
If you're an early stage CEO, AbstractOps handles and automates your HR, finance, and legal ops — so that you don't have to. We help you Be Scrappy, Not Sloppy.
We understand that ops can be painful. If you have any questions or need assistance with your ops, drop us a note at hello@abstractops.com. We'll do our best to help.