Data from multinational research firm BrandsEye painted a bad picture of Rain as the worst mobile network in South Africa.
BrandsEye today released its latest SA Telcos Sentiment Index, which analysed about two million social media posts about telco providers: Cell C, MTN, Rain, Telkom, and Vodacom throughout the year.
The index found that some telcos received significantly more negativity on social media platforms than others. Each post received a sentiment rating – positive, neural, or negative – which was used to calculate a Net Sentiment ranking for each telco.
BrandsEye said newcomer Rain ranked last, scoring over 20 percentage points below the industry average.
On the other end of the spectrum, having scored the lowest negative sentiment and highest positive sentiment, MTN ranked first.
"Unexpectedly, Cell C – whose survival came into question during 2020 – placed second, while Telkom placed second-last despite seeing the most annual customer growth," said the firm.
BrandsEye said it was in network conversation that MTN shone.
"While seeing only a small advantage in quality, it was speed and coverage with which consumers were most satisfied," it added.
"Rain on the other hand, saw above-industry levels of risk conversation about downtime, evidencing network quality as one of its major weaknesses."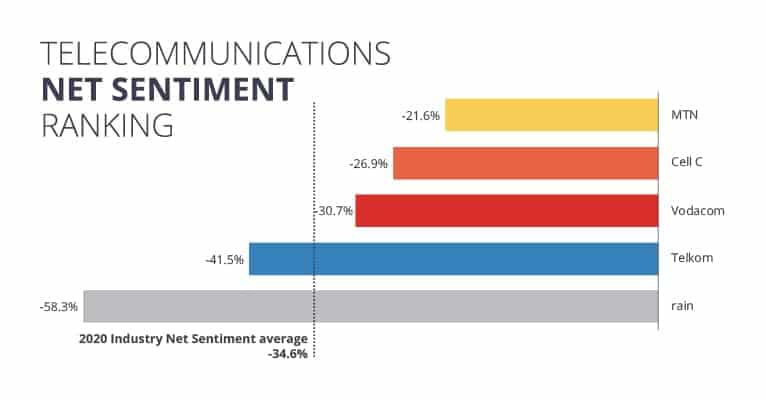 In terms of load shedding conversation, both MTN and Cell C saw a considerably better Net Sentiment than the other telcos, suggesting their users were the least affected by power outages, said BrandsEye.
It added that pricing complaints followed a downward trend across the industry in 2020, largely driven by the data price cuts implemented following the Competition Commission's inquiry. However, despite slashing data prices by up to 40%, Vodacom still saw the most negativity around pricing, said BrandsEye.
"Cell C recorded the highest positive and least negative pricing sentiment, ranking them first in this regard."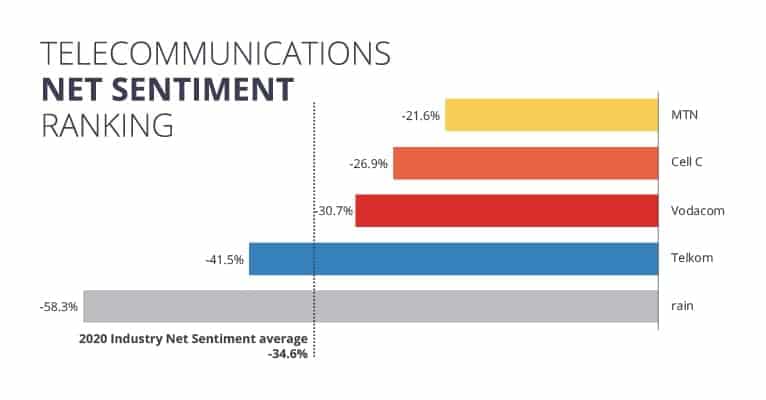 BrandsEye CEO, Nic Ray, says that while customer service is clearly an industry-wide issue, this insight offers telcos a valuable opportunity for differentiation. "Customer service is an area prime for disruption, offering an opportunity for telcos to become market leaders through meaningful improvements in service."