Ecommerce, the sale of goods and services online, is being embraced by many South Africans during the COVID-19 lockdown. For many retailers that have been allowed to trade essential services during South Africa's hard lockdown, online delivery services have become a lifeline.
South African drugstore chain Dis-Chem Pharmacies informed investors on Wednesday that after year-end, due to the COVID-19 pandemic, it has experienced different trading patterns to that of corresponding years.
The company said before the lockdown came into effect on 27 March 2020, its retail stores experienced a substantial increase in revenue compared to the corresponding period of 45.6% as customers stocked up on products.
Increased revenue was seen across all categories but especially in the pharmacy, healthcare and nutrition categories.
"This trading pattern was then reversed during the lockdown when only essential products could be sold, and retail revenue decreased by 20.9% compared to the corresponding period," Dis-Chem explained.
"Since level 4 came into effect the group is starting to see a recovery in its revenue with retail revenue increasing by 2.8% from 1 May until 16 May 2020 compared to the corresponding period."
Dis-Chem added that COVID-19 is changing the eCommerce landscape. The company saw a 490% sales growth in eCommerce in the month of May 2020.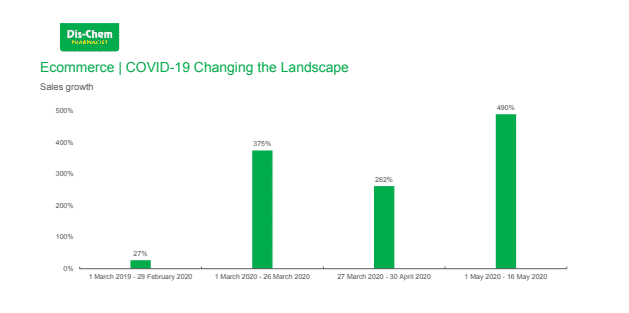 Furthermore, Dis-Chem reported a 61% increase in e-commerce revenue in the month of February.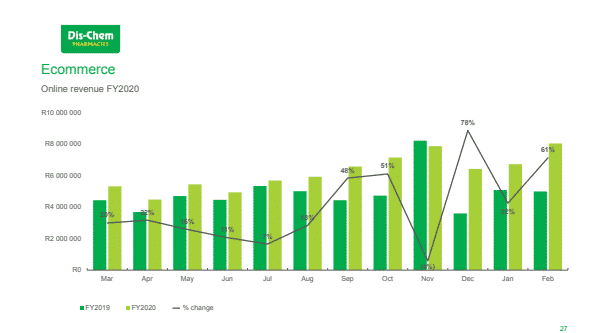 Dis-Chem also announced it deferred a decision on its final dividend due to uncertainty over its future trading environment.
"The dividend payment will be deferred until the next dividend cycle once the group better understands normalised trading conditions and considers the funding sources for the Baby City transaction," the company said.
During the year to end-February, Dis-Chem returned R266 million to shareholders in dividend payments, reflecting a 11.7% lower than the prior period.
The group said revenue grew 12% to R24 billion in its year to end-February 2020.
"The group expects that the consumer will continue to remain constrained and the full extent of the impact of COVID-19 is still unknown. The ultimate impact on trade in the 2021 financial year is currently unknown, as it will depend heavily on the duration of the lockdown levels and the normalisation of retail trade.
"With the focus on ROIC and the cash generation in the 2020 financial year, the group has a strong balance sheet and is continuing to adapt quickly to the current environment, with a focus on mitigating the near-term impact whilst positioning itself for success in the future."