Mauritius is an island that is famed for its beautiful beaches and for its reputation as an "African success story". Since its independence from the UK in 1968, it has had tremendous economic progress, consolidated its democracy and maintained political stability.
AfrAsia Bank and New World Wealth have reviewed Africa: Wealth growth by country, 2008 – 2018 as part of their 2019 Africa Wealth Report.
The 2019 Africa Wealth Report provides a comprehensive review of the wealth sector in Africa, including HNWI trends, luxury trends and wealth management trends in 17 countries and 20 cities across the continent.
Total wealth held in Africa has risen by 14% over the past 10 years (2008 to 2018). Africa's performance was constrained by poor performance in the three largest African markets, namely: South Africa, Egypt and Nigeria.
Mauritius was the top-performing individual market during this period. Ethiopia also performed well, although it should be noted that it started from a very low base, which makes growth easier – average wealth in Ethiopia currently stands at around $650 per person which is still very low.
Botswana's growth was impressive when considering that wealth per capita there is already quite healthy at around $7,900 per person.
As reflected in the table below, Mauritius was the best performer in Africa over the past decade.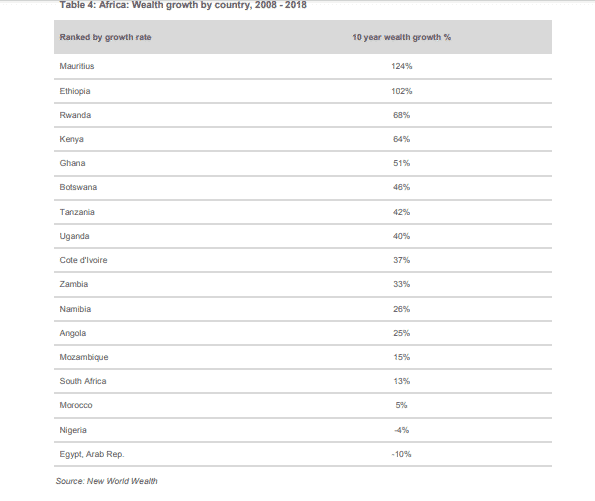 Mauritius was also the 2nd fastest-growing wealth market worldwide during this period (after China).
Possible reasons for this strong growth include:
Safety – Mauritius was recently rated by New World Wealth as the safest country in Africa along with Namibia and Botswana. Notably, safety is one of the key drivers of wealth growth in a country.
A thriving and growing financial services sector.
Rising residential and commercial property prices.
Strong HNWI growth – a large number of wealthy individuals (HNWIs) have moved there over the past decade, especially from Europe and Southern Africa. In addition, a large number of locally-based HNWIs have reached HNWI status as the local financial sector has grown – Mauritius is now home to around 4,400 HNWIs, compared to 1,800 HNWIs ten years ago.
Secure ownership rights. Ownership rights are very strong in Mauritius, which encourages locals and foreigners to invest in property and businesses in the country.
Low taxes which encourage business formation and appeal to retirees. Company and personal income tax rates are only 15%, with no inheritance or capital gains tax. Mauritius has a very similar tax structure to Singapore.
Low level of government regulation in the local business sector (when compared to nearby countries such as South Africa).
Lifestyle – beaches, weather, golf courses and scenery.
Ease of doing business in the country (Mauritius ranked 1st in Africa and 20th worldwide in the World Bank's 2019 Doing Business Report).
Low jobless rate and low inflation rate.
It has a well-developed banking system and stock exchange. This encourages people to invest their money within the country and grow their wealth locally. It also ensures that any economic growth filters through to wealth creation.
Individuals living in Mauritius are free to invest overseas (with no exchange controls) – this encourages wealthy people to use the country as a business and investment hub.
It has a well-developed free media. This prevents government from getting away with wrongdoing.
It is a convenient base for investing and doing business in Southern and East Africa.
Strong FDI inflows – Countries that are investing heavily in Mauritius include France, China, South Africa and the UAE (according to Bank of Mauritius).
Good schools (such as IPS and Northfields) and quality food stores (such as Food Lovers Market). These factors encourage wealthy people to stay in the country.