South African tech start-up Enlabeler has closed its funding round with venture capital firms Kingson Capital and E4E Africa, as well as the Michael & Susan Dell Foundation.
Started in 2019, Enlabeler is a data labeling provider that offers high-quality data services, including data classification, annotation and data labeling for businesses globally. Enlabeler is taking aim at the local youth unemployment crisis by providing contract-based employment and growth opportunities for young unemployed people in South Africa and Kenya.
The spark of inspiration behind Enlabeler was ignited when Founder and CEO (Chief Executive Officer) Esther Hoogstad wrote a research paper on how the SA tech sector could help create digitally enabled micro-jobs for the underutilised youth demographic. In the process, Hoogstad met two enthusiastic entrepreneurs, Pieter Boon and Koen Bonenkamp, in the AI and Data Science industry, which led to the official birth of Enlabeler.
The current leadership team with Ridha Moosa and Pieter van der Merwe – among others – has grown to become a team of domain experts in this field, with both data science and DevOps experience. They are accelerating their innovative footprint to support the labelers with strong tech and operational processes.
Hoogstad expands on the company's inception: "The global market for AI applications has grown by a CAGR of 38% and is projected to surpass around 1,59 USD billion by 2030. The global data labelling market alone is expected to increase to USD 8.2 billion by 2028. We noticed that worldwide, data scientists and machine learning engineers need high-quality datasets to train and inform their working models. This trend is only recently gaining momentum in South Africa.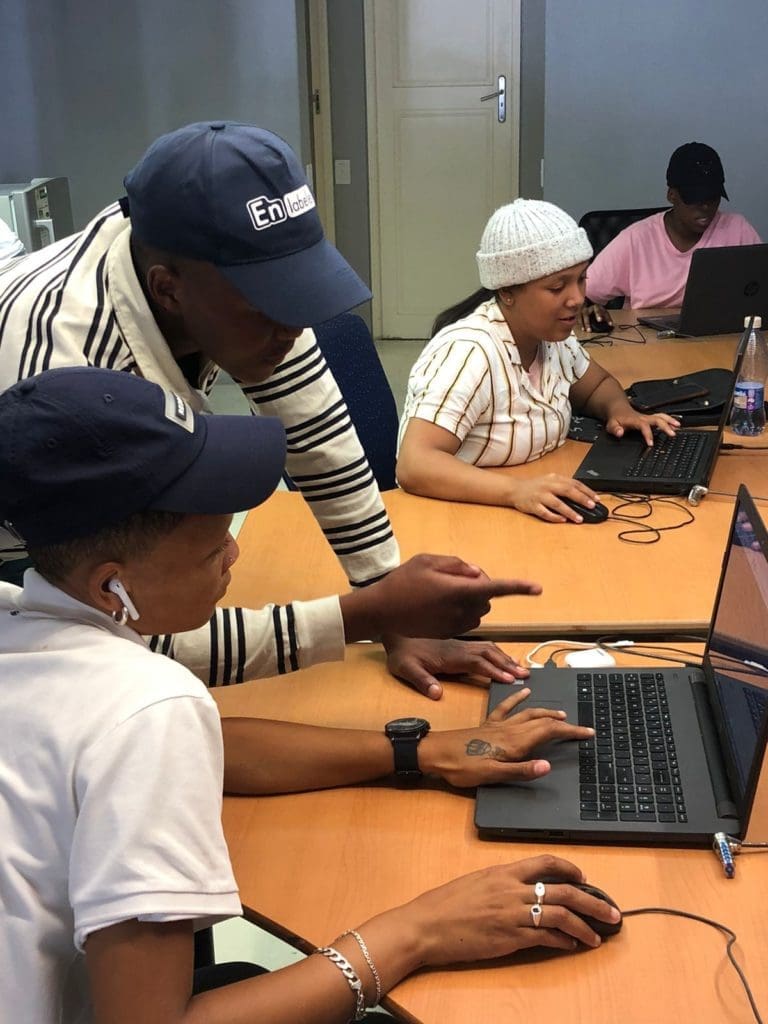 "Accelerated by COVID-19 and the corresponding lockdown, many companies have been digitising and automating their business processes using ML (Machine Learning). As Enlabeler started working completely remotely during lockdown, we had to develop a robust tech foundation to service clients globally. At the same time, the team had to be inventive in recruiting, selecting and training labellers using online tools. This is now being supported by our permanent team of reviewers and project managers based all over South Africa and Kenya."
For the layperson, Enlabeler's services incorporate image and video annotation – or labelling video frames and images to inform ML models and algorithms. ML is a crucial component in AI applications and requires large volumes of trained and untrained datasets that need to be "labelled" by humans to "teach" the machines. The company's other services include speech and audio transcriptions; translations of video and audio content to local languages to increase market reach; text classification, and sentiment analysis. All of which give Enlabeler a distinct advantage over global competitors.
Kingson Capital's Ross Jenvey says, "We see many pitch decks from various tech start-ups, but Enlabeler stood out for its multi-pronged potential. That is, the company has a selection of highly-innovative services with vast commercial possibilities; plus, it offers immense scope for employment growth in the most underserviced local population group – young, often unskilled or unqualified job seekers."
Kingson Capital's Gladwyn Leeuw says, "With Enlabeler, we see the beginning of a future where technology creates widespread employment opportunities on the African continent. We hope to shatter the perception of technology as a force that adversely affects job creation or 'replaces' human elements. Rather, technology has the potential to create a whole new generation of African tech professionals, leveraging innovation to grow the continent's economic footprint and boost every individual's earning potential in the long-term."
"To create earning opportunities that South Africans from low-income households need to support themselves and their families, the Michael & Susan Dell Foundation invests in organizations that provide training for placement in in-demand jobs or connections to livelihood earning opportunities at scale. This new funding partnership allows Enlabeler to expand on its ability to provide training and enabling infrastructure to more labellers throughout the country, removing the barriers to earning faced by many," says Ona Meyer, program manager, youth employment, the Michael & Susan Dell Foundation.