As of today, MTN prepaid customers will pay only R299 for 30GB for monthly data (down from R349) and R199 for 21GB weekly (down from R249) when purchasing MTN EverydayGigs.
MTN has also introduced a new EverydayGig 3-day offer of 1.5GB for R39, a 7-day offer of 3.5GB for R55 and a monthly offer of 15GB for only R179.
"We believe in choice and flexible data solutions for all customers. With continuing work and lifestyle changes, and difficulties still faced by many, this is becoming more and more important. We hope that our revised Everyday Gigs pricing will empower more South Africans with reliable connectivity to access the digital world – whether for work, entertainment, or digital learning", says Mapula Bodibe, Chief Consumer Officer at MTN South Africa.
MTN first launched EverydayGigs in May 2020 as a convenient way for prepaid customers to stay connected by paying once and getting allocated with data daily without the need to recharge or convert airtime to a bundle.
The offering was improved in May 2021, and MTN has now once again revised the pricing for some of the current MTN EverydayGigs data offers and introduced additional new offers to provide more options for customers.
The MTN EverydayGigs offers include: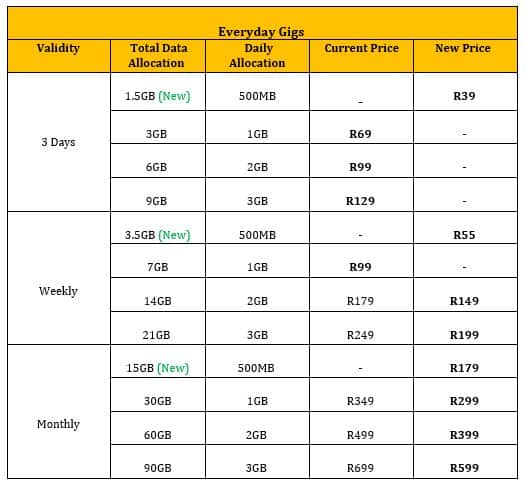 "As Mzansi's Bozza network, we are committed to exploring innovative and cost-effective ways of reducing the costs of communication for our customers so that they can remain connected to what they love, affordably and conveniently – and with MTN EverydayGigs, they are able to do so without the hassle of topping up or buying data bundles daily," says Bodibe.