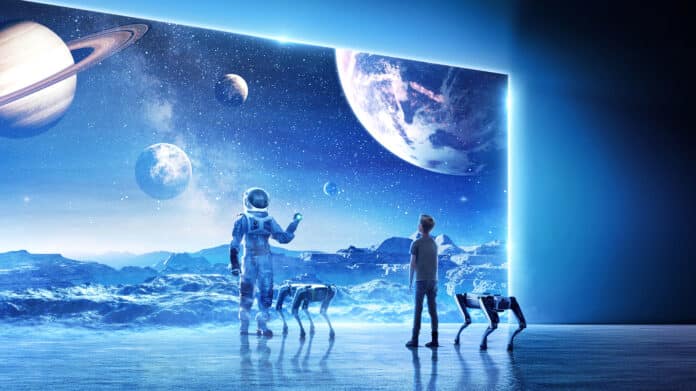 Carmaker Hyundai today shared its vision for pioneering the use of robotics in both the real world and metaverse at CES 2022.
The concept of the metaverse, essentially a virtual social space, gained traction in 2021.
The metaverse is a network of always-on virtual environments in which many people can interact with one another and digital objects while operating virtual representations – or avatars – of themselves. Think of a combination of immersive virtual reality, a massively multiplayer online role-playing game and the web.
The metaverse is a concept from science fiction that many people in the technology industry envision as the successor to today's internet. It's only a vision at this point, but technology companies like Facebook are aiming to make it the setting for many online activities, including work, play, studying and shopping. Facebook is so sold on the concept that it is renaming itself Meta to highlight its push to dominate the metaverse.
Also read: What Is The Metaverse?
Robotics is an essential part of Hyundai Motor's transformation into a smart mobility solution provider. Having acquired Boston Dynamics, an innovator in the field.
Hyundai Motor has sharpened its focus on advancing robotics to enhance people's lives through a range of mobility solutions.
The company sees robotics and mobility as complementary in that one accelerates development of the other, and vice versa. Together, they form a synergistic combination that will add value to the business and drive progress for humanity, starting with a robotics-based Mobility of Things (MoT) ecosystem.
In support of its future vision for robotics and mobility, the company revealed at CES its new concept of 'Metamobility', with the goal of pioneering a smart device-metaverse connection that will expand the role of mobility to virtual reality (VR), ultimately allowing people to overcome the physical limitations of movement in time and space.
Hyundai Motor also shared its vision of how robots will act as a medium between the real world and virtual spaces, enabling users to make changes in the metaverse to be reflected in reality.
The company envisions that the distinctions between future mobilities will be blurred through the further development of robotics technology, such as AI and autonomous driving. Diverse mobilities, including automobiles and Urban Air Mobility (UAM) will also serve as smart devices for access to the metaverse platform.
"At Hyundai, we are harnessing the power of robotics to achieve great things. We envision future mobility solutions made possible by advanced robotics — even expanding our mobility solutions to Metamobility," said Euisun Chung, the Group's Executive Chair, during his presentation.

"This vision will enable unlimited freedom of movement and progress for humanity."