Discovery Bank, part of Adrian Gore's Discovery Group, said on Wednesday that it is signing up 600 clients daily and accelerating growth.
At an investor conference presentation, Hylton Kallner, the CEO of Discovery Bank, said the bank has emerged in line with the strategy with solid growth in 2021 across all key metrics
He said Discovery Bank had over 400,00 clients in November 2021, of which over 375,000 were primary clients, 31% more than the beginning of the calendar year.
"The Bank is adding more than 600 clients per day. More than 50% of these clients are new to Discovery Group, with a high-value business mix," said Kallner.
He added that Vitality Money is driving healthy balance sheet growth with the expected behavioural correlations holding well.
The Bank's deposits are growing with over R9 billion, and advances grew by 10%, compared to the market growth of 2%. The company added that the credit loss ratio has trended down to 3,25%.
Kallner said in the presentation that Discovery Bank is achieving annualised revenue of R1 billion with transaction volumes, utilisation and engagement all growing rapidly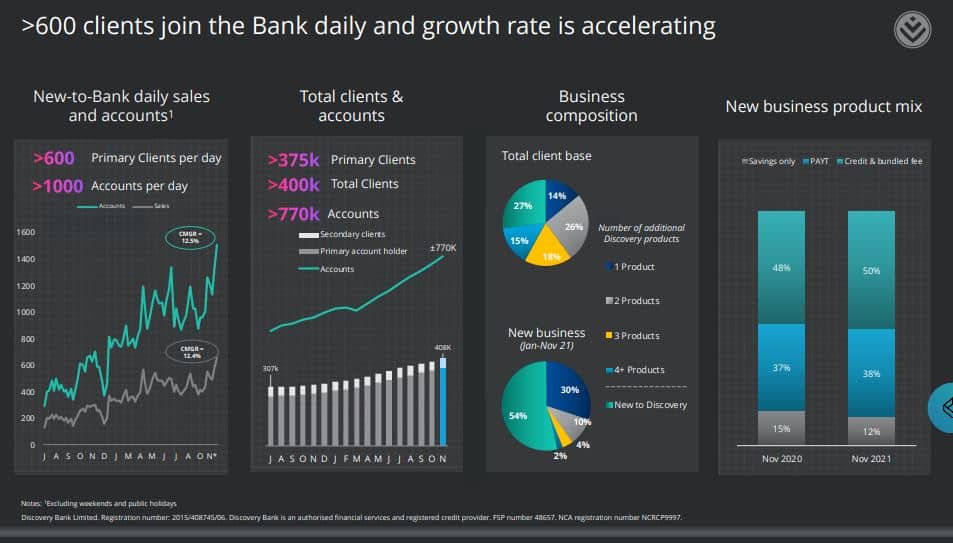 Discovery Bank claims to have ±25% of the high-net-worth spend market share.
The Bank is expected to break even with between 600,000 – 700,000 clients as expected in 2024 based on the client growth rate of 600 per day and the current loss ratio, advances, NIR and loan to deposit ratio trends.
Discovery Bank growth is best in class in the growth of deposits and advances after 28 months of operation when compared to other Neo-banks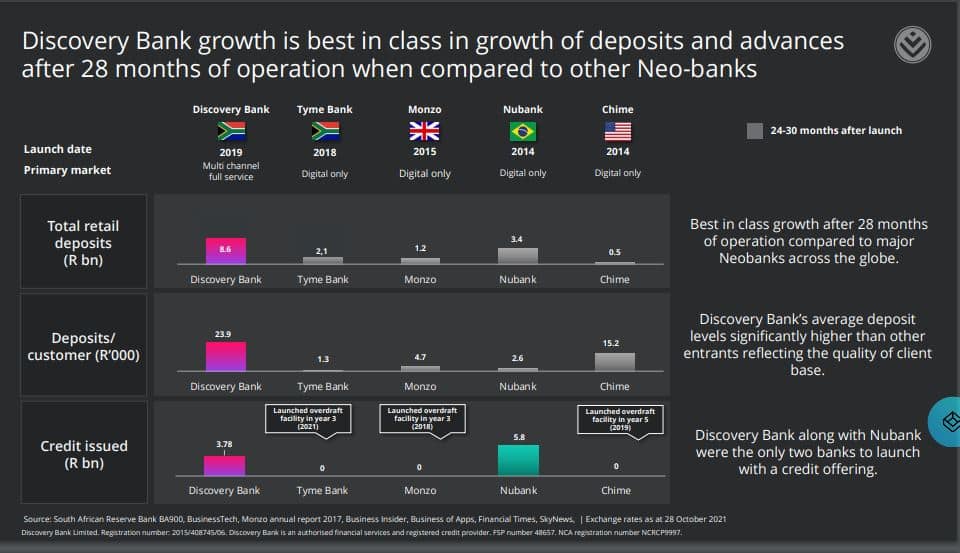 The Discovery Bank strategy was predicated on utilising the Discovery Group assets and three key elements at launch in July 2019.
The shared-value banking model aligns client interests with those of the Bank to drive positive selection, deposit gathering and lower defaults for clients that manage their money well.
A full service offering which caters for the full spectrum of the retail market, driving high levels of client engagement, utilisation and value.
Digital bank scalability and economics to yield attractive returns on investment and long-term profitability.
Discovery Bank competes with Tymebank, Bank Zero, Bidvest Bank and five other big five banks – Absa, Capitec, FNB, Nedbank and Standard Bank.
TymeBank is owned by African Rainbow Capital (ARC) Financial Services Holdings, a company within Motsepe's Ubuntu-Botho Investments stable.
Also read: Tencent And UK-Based CDC Group Takes A R1 Billion Bet On TymeBank And Tyme