Nedbank's super app Avo, launched during the national lockdown, continues to scale significantly and targets business-to-business opportunities. Since its launch in app stores on 19 June 2020, Avo has signed up more than 265 000 customers, along with over 17 500 businesses registering and offering their products and services on this e-commerce platform.
Nedbank informed investors on Wednesday that product orders continue to grow exponentially, up 45% in the second quarter of 2021 compared to the fourth quarter of 2020, which is seasonally a substantial period for retail sales.
"Avo has been the first super app to market, and we intend on being the first to scale by remaining fresh and relevant to the markets we serve," the bank said on Wednesday.
"Avo will shortly enter the business-to-business, healthcare and motor vehicle ecosystems, attracting corporate partners to the platform to generate mutual value."
Avo is a one-stop super app enabling clients to buy essential products and services online and deliver them to their homes, with payment via the Avo digital wallet.
The app plays a vital part in consumers' lives. It conveniently helps them find a solution to their everyday needs and wants, with tremendous optionality, value, and predictable delivery.
Nedbank said Avo created and scaled exciting consumer and business propositions in the home and payments ecosystem. This includes offering a wide variety of goods and services such as tech, furniture, gaming and home appliances; on-demand delivery of groceries, takeaways and liquor; and SA's first digital mall experience.
Avo supports and enables businesses across SA – especially small and micro businesses that struggle with the high cost of e-commerce – to go online without any significant expense, market their goods and services to our large and ever-growing consumer base, and collect payment safely and securely.
"Further, the insights generated through our powerful AI capabilities support businesses in their growth strategies," said Nedbank.
The banking group also announced that its digital initiatives helped increase the number of retail digitally active clients in SA by 27% year on year to 2,35 million versus 1,85 million same period last year.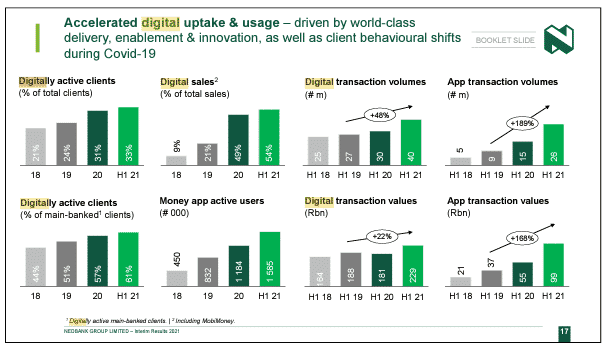 The bank said this now represents 33% of total clients and 61% of main-banked clients.
Retail digital transaction volumes in SA increased by 33% and transaction values by 27%.
The bank added that digitally active clients across the Nedbank Africa Regions business grew by 62% as "we continued to roll out new services and now makeup 47% of the active retail base."
Nedbank also reported that the main-banked clients in retail grew by 2% to around 3 million.