Following on from its first successful hackathon, Empire Partner Foundation's (EPF) Tech Hub will close out the year with a digital hackathon focused primarily on solving complex challenges that municipalities face today. This Digital Gauteng City Region (GCR) hackathon will take place over the 12th and 13th December 2020 in Illovo, Johannesburg.
Municipalities today face a plethora of challenges in being able to effectively provide services to their residents while also increasing their own level of efficiencies. This hackathon will throw open to developers a number of problem statements allowing participants a free reign to innovatively solve these challenges in a compressed timeframe that at the minimum considers technological solutions for complex problems.
The Digital GCR is a platform that brings together existing and new information, opportunities and useful resources via an e-platform for the public good, including current planning challenges and poor service delivery. The platform provides a digital ecosystem where innovators can deeply understand challenges in real-time in order to develop comprehensive, tech-focused solutions.
The focus on local government solutions has been emphasized following an enthusiastic pledge of support by the South African Local Government Association (SALGA) towards the Digital GCR platform. In his keynote speech at our first hackathon, Xolile George, Chief Executive Officer of SALGA, left the developers inspired after reiterating the impact that technology can have in improving local government planning and service delivery.
"We thought about how we can use the next hackathon as a springboard for innovative digital solutions that can have a real impact on local government. We want to explore how we can use tech to improve the communication between municipalities and residents to ensure that residents participate in the development of their own municipalities and that municipalities provide a standardised level of service to residents across the country," says Akivan Kemraj, CEO of the EPF Tech Hub.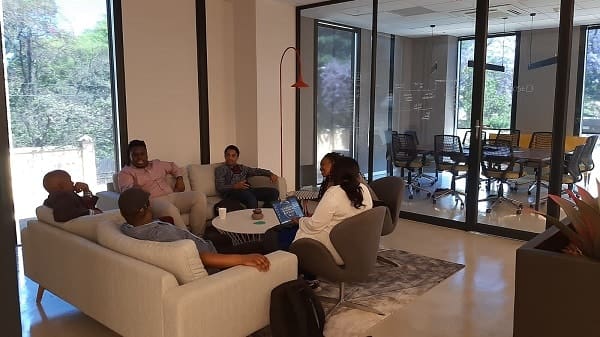 An additional dimension that is being added in this hackathon is the consideration of both the available data and new data that can be collected and utilized in developing solutions for municipalities. A key sponsor for this event is BriteGaze, a new entrant in the enabling technologies environment with a focus on leveraging data to build out Artificial Intelligence infused solutions.
BriteGaze has also recently launched an AI fund that will assist businesses working in the AI space to accelerate their growth path to solve challenges that we face on the African continent.
The developers that come up with the most innovative solutions can look forward to their share of the R20,000 cash prize as well as a masterclass on business model innovation that will inject some critical thinking and associated consideration for the monetisation of any technology solution.
"We recognize the importance of creating opportunity and incorporating trends shaping the future and we want to empower the young developers of today to become leaders for South Africa and the African continent," says Akivan.
For more information on this hackathon as well as future events, EPF Tech Hub address is: www.empirepartnerfoundation.org/hackathon