South African Food Sovereignty Campaign co-founder Vishwas Satgar told the Sunday Times that their estimates were that the number of "food-stressed people" had doubled from last year to 30-million.
This includes 4-million people in the informal sector who cannot work and 18-million people on social grants who do not earn enough to buy increasingly expensive food, according to the newspaper.
The organisation represents small-scale farmers, farmworkers and food NGOs.
"There are 1-million domestic workers and nearly 90,000 waste-pickers who don't have money to buy food. There are 3.5-million elderly people and 12-million children whose grants are not enough to buy food," Satgar explained.
"For a household of four to secure the basic food staples requires them to receive at least R2,500. In most cases this is not happening."
As the government grapples with finalising a plan to feed a growing number of desperately hungry people amid the COVID-19 national lockdown, shelters say they are seeing starving people who have not eaten for up to a week, according to the Sunday Times.
Since the lockdown began, over 100 000 households across the country have been provided with food parcels, with further households being targeted through the Solidarity Fund and Department of Social Development's Disaster Relief Fund.
The South African Social Security Agency (SASSA) has also set aside over R400 million for social relief of distress through food parcels and vouchers, which will be issued on a larger scale.
"The PCC agreed that these efforts needed to be significantly expanded as a matter of urgency. The PCC further emphasised the need for social distress efforts to be dispensed in a manner that upholds the dignity of all beneficiaries, said Presidency on Saturday afetra virtual meeting of the President's Coordinating Council (PCC), which discussed measures to strengthen and intensify the country's response to the COVID-19 pandemic.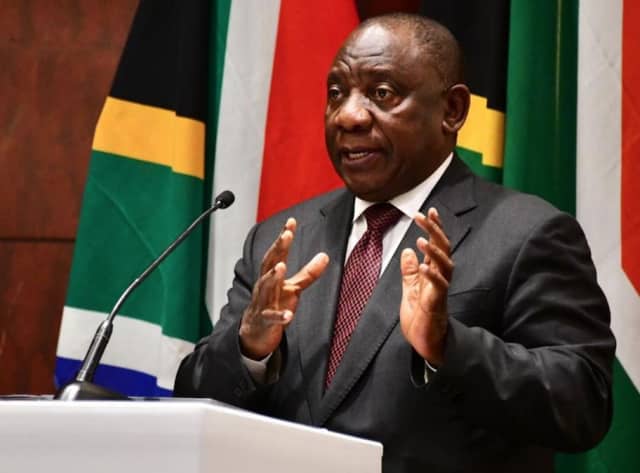 "The PCC has also agreed to ramp up water provision across the country and to deliver relief to more households, so that it reaches those most in need. This includes measures covering the homeless and other vulnerable groups."
For more read: Coronavirus: SA's Coordinating Council assesses COVID-19 measures
A cabinet meeting will be held tomorrow to consider proposals to provide relief to save millions from hunger – including a temporary increase in social grants and introduction of a basic income grant.
Yesterday the presidential coordinating council, which includes ministers, mayors and premiers, "agreed that measures be put in place to ensure that more cash should be put in the hands of households to induce economic activity in the medium term"
SA COVID-19 cases rise to 3 034
South Africa has 3 034 confirmed COVID-19 cases, with 903 recoveries and 52 deaths, the Minister of Health, Dr Zweli Mkhize, said on Saturday.
Mkhize held a virtual briefing on Saturday evening, where he released the country's latest COVID-19 statistics.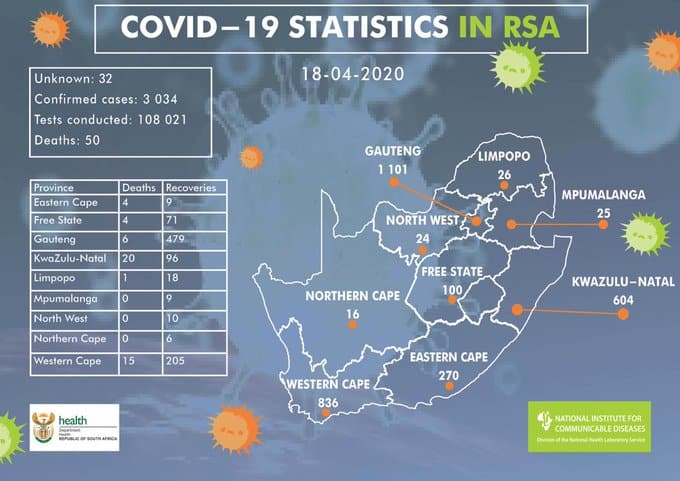 Gauteng has the majority of COVID-19 cases at 1 101, while the Western Cape has 836.
KwaZulu-Natal has 604, Eastern Cape 270, Free State 100 and Limpopo 26 cases.
In addition, the North West has 24 cases, Mpumalanga 25 and the Northern Cape 16.
There were 32 unallocated cases.
To date, 108 021 COVID-19 tests have been conducted.
The majority of those who had passed away were the elderly.