President Cyril Ramaphosa revealed plans for a new smart city in Gauteng that he promised in his maiden 2019 state of the nation address.
The new democratic South Africa's city is to be driven solely by technology.
During the State of the Nation Address (SONA), Ramaphosa said a new smart-city is taking shape in Lanseria, which 350,000 to 500,000 people will call home within the next decade.
This city that is referred to as a truly post-Apartheid city will be situated in Lanseria, which has Lanseria International Airport, a privately owned international airport that is situated north of Randburg and Sandton to the north-west of Johannesburg.
Ramaphosa said the process to create the new city is being led by the Investment and Infrastructure Office in the Presidency alongside the provincial governments of Gauteng and North West, working together with the cities of Johannesburg, Tshwane and Madibeng.
Working with development finance institutions, he said, "we have put together an innovative process that will fund the bulk sewerage, electricity, water, digital infrastructure and roads that will be the foundation of the new city."
He added: "It will not only be smart and 5G ready but will be a leading benchmark for green infrastructure continental and internationally.
"We will be piloting an alternative rural roads programme during which four experimental road stretches of 50km each will be constructed.
"This initiative will ensure cost-effective solutions for the State, meaningful skills transfer and higher potential for labour intensive job creation than conventional roads construction methods."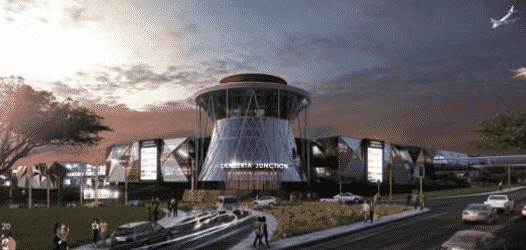 The area around Lanseria airport was identified as a major corridor of development by the Gauteng government top build 30 new cities, with investments totalling over R100 billion.
The Mega Project for Integrated Residential Development at Lanseria Airport City is
designed to be a high-density mixed-use residential area of an urban plan in layout,
infrastructure and economy that is centred on the airport. It is designed to promote
a new city form of cross-cultural living.
The Mega Project document states that the existing Lanseria International Airport will anchor the success of the proposed Lanseria Airport City Mega Project. Crosspoint, in partnership with the Public Investment Corporation (PIC) will develop a 90ha land parcel into a mixed-use commercial precinct – the Lanseria Business District.
Further development of the airport region requires government support to secure the installation of key bulk infrastructure including sewer and water, electricity, roads and public transportation, reads the document.
It further stated that Crosspoint, in cooperation with the Gauteng Department of Human Settlements will implement the Lanseria Airport City Mega Project phased over a ten-year
period. The initial development comprises approximately 5 088 277m² of commercial floor space and 50 000 residential units.