The founders of MDPS (Mobile Diesel Power Systems) have received death threats from a 'Vodacom manager', who was based in KwaZululu-Natal (KZN), a source from parliament disclosed.
MDPS, which was founded by Peet and Heidi-Anne Thuynsma, is suing Vodacom for close to R100 million in damages. They claim their services were suspended overnight by Vodacom leaving them with bad debts.
The couple's central argument is that Vodacom suspended their services after false claims related to buying diesel for running the mobile phone operators' generators for its mobile phone towers in KZN.
MDPS has never made any admissions to the fraud allegations brought against them by Vodacom.
Meanwhile, Vodacom said it was planning to defend the action. For more read: Couple Sues Vodacom For Close to R100m
MDPS had to close down and the owners were forced to sell most of the vehicles and generators while their staff were left without work.
The dispute started in June 2017. There was no death threat made directly to MDPS employees. The conversation was amongst the staff members of the WhatsApp Group of Vodacom and Ericsson management. And a concerned member of this group made screenshots of this conversation and sent it to the Thuynsmas, warning them of these death threats.
Gun laws, which stipulate that to own a gun in South Africa you must have a firearm licence, should have been a red flag to Vodacom.
In a leaked email, a source from parliament sent TechFinancials WhatsApp Group correspondence.
The correspondence was shared by a concerned WhatsApp group member to the owners of MDPS, who later shared it with Vodacom KZN and the Parliament Portfolio Committee on Small Business Development.
The WhatsApp messages screenshots, which were sent to TechFinancials by a parliament source, read:
"if you need us … one call.
"We smaak killing owes.
"If you want a got my granballies 405 hunting rifle … "Unlicensed off course.
"AKs phone does not graf how he's going to call 911 lol "He's dead " (with two smiley emojis)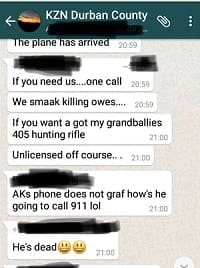 Asked whether Vodacom was aware of these WhatsApp messages, a  Vodacom spokesperson – who didn't want to be named, responded via email in an affirmation, saying "yes".
"Vodacom escalated the matter with Ericsson at the time (Praveen Maharaj's employer), and would request that any further questions in this regard are directed to Ericsson, the spokesperson explained, when asked if Vodacom investigated the threatening messages and if so, what did it conclude?
In short, Vodacom says the threats were made by an Ericsson employee. However, the Ericsson employee (Maharaj) was just part and parcel of this WhatsApp Group, which consisted of Vodacom and Ericsson employees. The death threats were made by a Vodacom manager, it is alleged.
TechFinancials pressed for more answers, asking Vodacom if it was possible to get a report of the investigation of the matter.
Ericsson was subcontracted by Vodacom. MDPS had two contracts, one with Vodacom and one with Ericsson. Vodacom brought Ericsson, now Mobax, to manage some divisions.
Further asked whether Vodacom was trying to shift the responsibility to Ericsson to deal with the death threats made by a Vodacom 'employee' and so-called 'unlicensed firearm', the spokesperson of the mobile phone operator, said: "Vodacom does not comment on hearsay and rejects the inference that it is simply seeking to shift blame in this matter."
To resolve the issue with Vodacom, MDPS submitted its complaints to the Parliament Portfolio Committee on Small Business Development.
That process, which was held on 13 March 2019, also yielded nothing as Vodacom made unfulfilled promises to resolve the dispute.
Heidi-Anne said: "We reserve our comment as the issue will soon be going to court. We have given our lawyers mandate to continue with the case…alive or dead, our case will carry on."
Last year the chairperson of the Parliament Portfolio Committee on Small Business Development Ruth Bhengu called on Vodacom to be honest and to deal with the "bad apples".
She said Ericsson's behaviour was a result of certain managers within Vodacom who were racist and who did not understand the policies of South Africa.
"Those people were still in Vodacom and the company was not doing anything about it. Vodacom's subcontractors had employed a former Vodacom employee who had been bullying small businesses."
Bhengu added that the same person had been employed by Ericsson to lead the contractors and he now worked for Mobax and was known as Praveen Maharaj and the other people were Sunil Maharaj, Steven Barnwell, and Andries Delport.
"If Vodacom was prepared to sit with those people, they would not get anywhere," she explained.

"Vodacom could have good policies but unless Vodacom dealt with those people, even the next Portfolio Committee would deal with those matters."
Vodacom is against discrimination and bigotry in all manifestations including race, age, gender, disability, and religion, said a Vodacom spokesperson.
Also read: Leaked Recordings – Vodacom, Ericsson and The Cover-Up to Sacrifice MDPS