First National Bank (FNB) customers sent more than R26 billion worth of eWallet funds in the year to end-June 2019.
This was derived from eWallet transactions processed in the year and was a 25% year-on-year rise in the value of funds compared to R21 billion in 2018.
eWallet allows FNB customers to send money to anyone with a valid SA cell number. The money is transferred instantly and can be used to buy prepaid airtime, send money to another cellphone and more. The money can be withdrawn from an FNB ATM or select retail stores.
eWallet was introduced in 2009.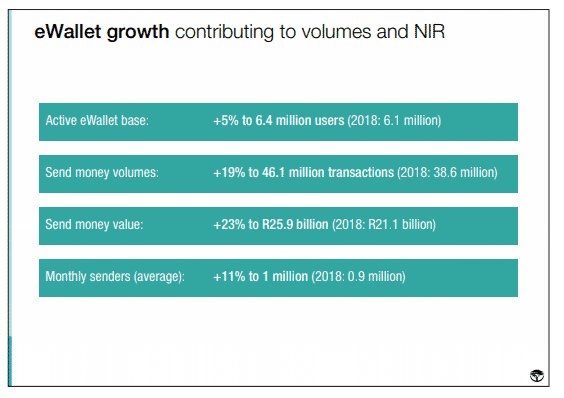 Active eWallet customers increased by 5% to 6.4 million versus 6.1 million in 2018.
FirstRand, which owns FNB, reported on Thursday that normalised earnings climbed 6% to R27.9 billion, led by a strong performance from FNB, RMB's client-facing businesses, and the inclusion of Aldermore's full year of earning.
FNB's pre-tax profits increased 11% to R25.3 billion in the year to end-June 2019, driven by another strong performance from its South African business, which grew pre-tax profits 10%. The turnaround in FNB's rest of Africa businesses continued, with normalised profit before tax improving 30%.
FNB's South African business performed particularly strongly, contributing R17.6 billion to earnings as it retained customers in an increasingly competitive market, and successfully executed its innovative, digital platform strategy to cross-sell and up-sell products utilising data and behavioural analytics.
FNB South Africa's performance reflects the success of its strategy to:
grow and retain core transactional accounts;
provide market-leading digital platforms to deliver cost-effective and innovative propositions to its customers;
 use its deep customer relationships and sophisticated data analytics to effectively cross-sell and up-sell a broad range of financial services products;
apply disciplined origination strategies;
provide innovative savings products to grow its retail deposit franchise; and right-size its physical infrastructure to achieve efficiencies.