BMW is leading the luxury segment into a new era that will be shaped by innovations in the fields of sustainability and digitalisation. With the new BMW 7 Series, the world's most successful manufacturer of premium vehicles is creating forward-looking ways to enjoy driving pleasure, unsurpassed long-distance comfort and a top-end digital experience. Central to this reinterpretation is the BMW i7.
The all-electric luxury sedan is a fully integrated member of the model family and clearly demonstrates how an exclusive driving experience and the ultimate feeling of on-board wellbeing can be combined with an unwavering commitment to sustainability.
In addition to presence, elegance and exclusive premium quality, there is a progressive approach characterised by innovations that directly enhance the user experience, wide-ranging connectivity and standard-setting sustainability of the car. In this way, the new BMW 7 Series has been designed to meet the needs of a modern target group that sees itself as committed to meeting challenges in a responsible manner – and one that views personal mobility as a way to experience unique moments in everyday life and on trips away.
Forty-five years on from the debut of the BMW 7 Series, the seventh model generation takes to the stage as the most advanced and innovative vehicle in the luxury segment. At the same time, the new edition captures the imagination with an overall design coherence unmatched by any rival. The BMW 7 Series is therefore once again a symbol of the BMW Group's innovative strength.
The world premiere of the new BMW 7 Series in April 2022 and its global market launch starting in November 2022 are the key milestones in the brand's current model offensive in the luxury segment. Only the BMW i7 xDrive60 and the BMW 740i models will be offered in South Africa at launch.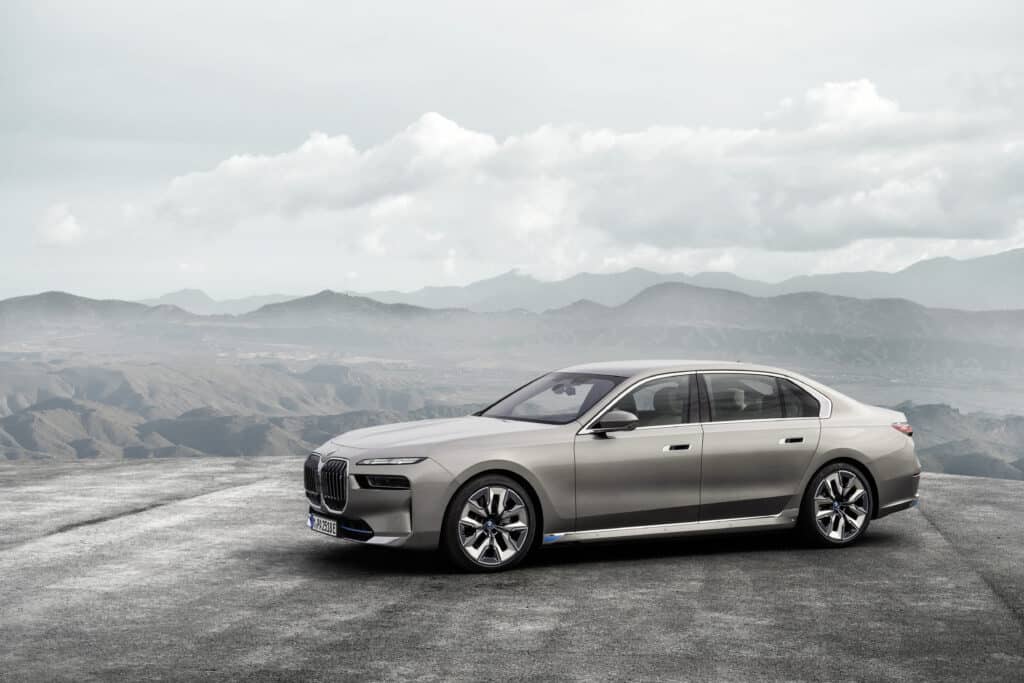 Unique digital experience with the new vehicle experience BMW iDrive and BMW Operating System 8.
Driving pleasure, long-distance comfort and the user experience in the new BMW 7 Series are shaped largely by the latest innovations in the field of digitalisation. The new BMW 7 Series offers customers the new multi-sensory vehicle experience BMW iDrive with the latest generation of BMW Operating System 8.
With the fully digital BMW Curved Display, the innovative BMW Interaction Bar, the enhanced capabilities of the BMW Intelligent Personal Assistant – plus additional My Modes, the latest version of the BMW Head-Up Display, and the Augmented View function available for the first time on the information display behind the steering wheel – intuitive dialogue between the driver and vehicle has reached a new level.
Passengers in the rear are greeted by a unique entertainment offering in the form of the new BMW Theatre Screen – a 31.3-inch panoramic display in 32:9 format with 8K resolution which extends downwards from the roof and transforms the second row of seats into an exclusive private cinema on wheels.