myFanPark Inc is pleased to announce its most recent partnership with OOOOO, to launch interactive, live online shopping in South Africa in 2022.
OOOOO is a technology platform and app that enables brands & retailers to embrace the fast growing live stream economy with its unique interactive video commerce application available for iOS and Android.
Created and launched in 2020 by Sam Jones (ex-Wish) and Erich Zhang (ex-Tiktok), OOOOO is part TikTok, part Amazon, allowing users to watch live and recorded videos in which creators discuss items they've tried and tested.
The products can then be purchased directly from the creators through video and live broadcasts.
"We have keenly watched the success of entertainment commerce out of China and couldn't be more excited with the OOOOO partnership. South Africa is, a market where ecommerce transactions continue to surge, brands are forward thinking and innovative and we have an influencer landscape that is vibrant and rich in opportunity." says Joy Des Fountain, CEO of myFanPark.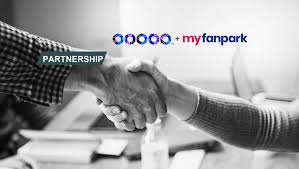 myFanPark is a fan-celebrity engagement platform that is reimagining how talent, creators and brands inspire, motivate, uplift and delight audiences through highly personalized and authentic interactions – including video message, Q&A's, social media interactions, DM chats, Zoom calls, merchandise and more.
The company has captured the hearts of thousands of fans around the world and boasts a roster of over 3,300 celebrities, talent and creators from 31 countries, supported by operational teams in South Africa, the USA and Europe
"The myFanPark partnership enables OOOOO to access a highly developed retail market in South Africa, with consumers wanting to experience live shopping. The South African market has one of the highest mobile penetrations seen globally, and various live shopping startups already operate in this sector of the e-commerce market," Sam Jones, Co-Founder and CEO of OOOOO says.
"The partnership aims to help myFanParks 1000s of creators offer their fans and supporters access to brands and products in a fun and entertaining manner. We are excited to get started."
Interactive video commerce continues to explode as a mega-trend worldwide, where in China alone, it is estimated to reach $305 billion this year according to Forbes. Having launched in November 2020, the OOOOO platform has seen over many hundreds of thousands of app installs to date and successfully onboarded leading brands across the fashion, sport, beauty and wellness industries.
"A number of brands and retailers have already shared their excitement  for the introduction of OOOOO in South Africa. Over the next few years technology-led commerce innovation will serve as a catalyst for massive growth in the region.  The appetite is there. Our market is ready", concluded Des Fountain.