Pick n Pay announced today that it paid R33 million to buy on-demand, online grocery service Bottles.
In November 2020, Pick n Pay said it purchased the application system infrastructure and the related intellectual property relating to the Bottles on-demand mobile application for a purchase price of R33 million.
"No goodwill arose from this transaction as the fair value of the underlying assets purchased equated to the consideration paid," the company disclosed today.
In addition to expanding its scheduled delivery service, Pick n Pay extended its Click n Collect offer and repositioned its one-hour liquor delivery partnership with Bottles into an on-demand essential grocery service.
The company launched in 2016 as South Africa's first alcohol on-demand delivery app and partnered with Pick n Pay in 2018.  Its offer was the first of its kind, promising that orders would be fulfilled within 60 minutes.
Following the prohibition on the sale of alcohol in March, Bottles re-purposed its app within four days, emerging with a new offer to deliver on-demand "Grocery Essentials" to customers.
Since its move to groceries on 31 March, the app has achieved more than 700,000 downloads, with more than 350,000 registered users.  The service offers over 7,000 products at store prices, with an average delivery time of 90 minutes.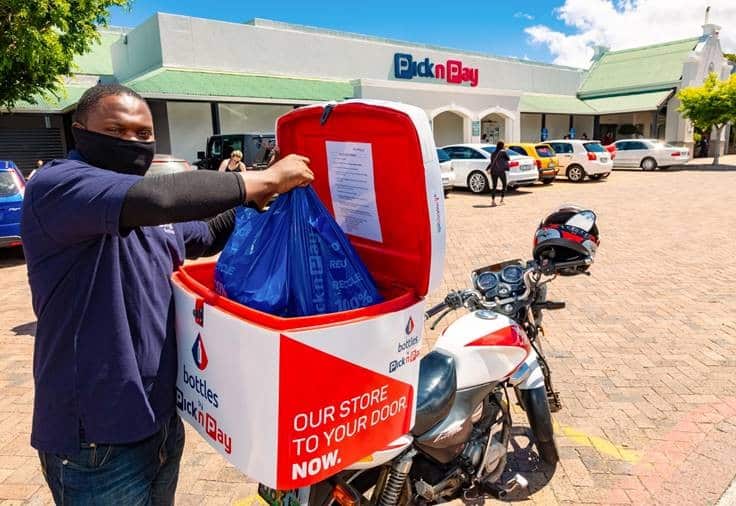 Also read: Bottles App To Be Integrated With Pick n Pay's Smart Shopper
Pick n Pay announced on Wednesday that it has completed the integration of Bottles – the on-demand delivery app – as the on-demand service of Pick n Pay Online.
The retailer said this allows customers to get their online grocery and liquor order delivered within as little as 60 minutes. This offering adds to the retailer's two other successful services – an online scheduled delivery service, and Click n Collect.
The retailer further said that the app will soon be integrated with Pick n Pay's Smart Shopper loyalty programme.
"By early next year, on-demand customers will earn Smart Shopper points and qualify for personalised discounts, immediate Smart Price savings, and free data rewards (if they have linked their PnP Mobile SIM card to their Smart Shopper account)," the company said.