The shares of Etion spiked Wednesday on anticipation of the struggling JSE-listed company announcing disposal of its various operating subsidiaries/divisions.
The diversified digital technology company announced the end of October 2020 that it is considering selling off business units to create shareholder value for its investors.
Etion stock open on Wednesday at 35c share, up 2.94% giving the company R191 million market value.
The stock has spiked 17% in the past seven days. In the past 30 days, Etion stock swelled by more than 112% and more than 200% in the past 90 days.
"The upward stock push driven by anticipation of news to come and market anticipate that Etion will get a good price for its subsidiaries," said an analyst.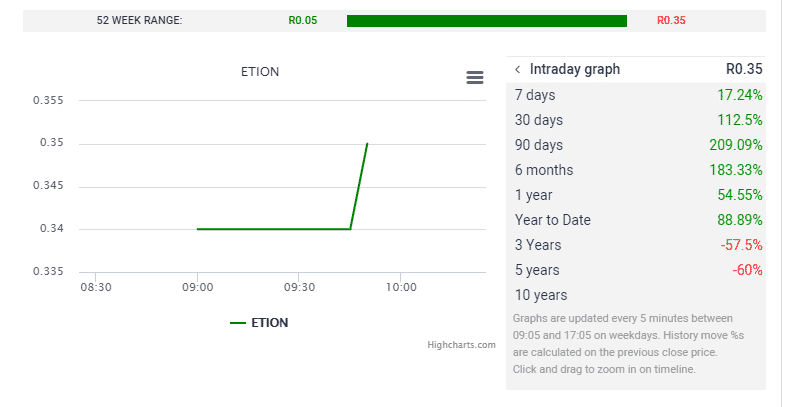 The company did not specify how much it hopes to raise from asset sales.
Etion has renewed its cautionary statement in respect of the disposal of its various operating subsidiaries/divisions.
"Shareholders are referred to the SENS announcement dated 28 October 2020 and are advised to continue to exercise caution when dealing in Etion's shares until a full announcement is made," the company announced on Wednesday morning.
Etion may use the funds from disposals to expand its services in Latin America and Southeast Asia.
Etion is busy exploring growth opportunities for Etion Create in Indonesia and Mexico.
Etion Create specialises in the design, manufacturing, integration, and support of advanced technology.
In short, Etion Create is one of the world's leading Original Design Manufacturing companies. It embraces this new world of IoT technologies, big data and the cloud, with the skills and commitment to software excellence, creating the right platforms for collecting, analysing and understanding information crucial to your business.
The company is also eyeing growth opportunities for Etion Secure or LAWTrust.
Christi Maherry, CEO of Etion Secure, told TechFinancials in August that the primary driver for opportunities for LAWTrust is that the world has to adapt to remote working during COVID-19.
"As a company, we provide services for on-boarding, ID proofing, cryptography, biometrics and digital signatures. LAWTrust is also part of a globally certified trust centre providing trust services. This has opened the door to taking the business internationally," said Maherry.