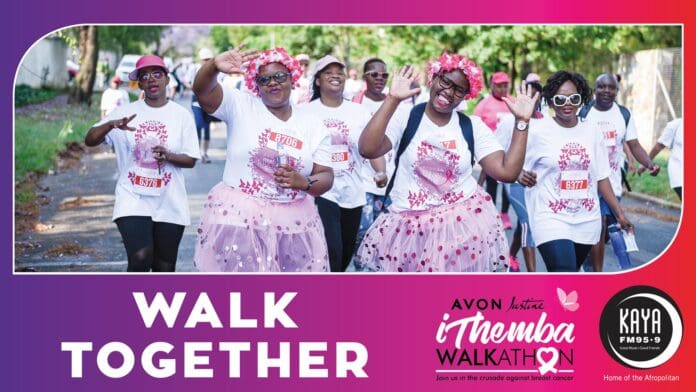 For the fourth year in a row, the Avon Justine iThemba Walkathon will partner with Gauteng's leading adult commercial radio station Kaya FM, to host the 15th edition of the annual biggest breast cancer awareness walkathon which takes place on Saturday, 31 October.
"The partnership with Kaya FM represents the meeting of the minds and will unlock the inherent synergies that both brands share. Avon Justine is a very aspirational brand that unashamedly harnesses the power of beauty to champion the empowerment of women and supports the causes that resonate with them, while Kaya FM listener is an urbane, sophisticated, and socially conscious individual that is rooted in heritage. We believe that this partnership will resonate with the station's growing socially conscious female listenership," says Mafahle Mareletse, Managing Director of Avon Justine Turkey, Middle East & Africa.
"Kaya remains committed to supporting the iThemba Walkathon in raising funds for the treatment, awareness, education, and research for breast cancer. In recent months many in our society have suffered further anxiety around their diagnosis. We commend Avon Justine for continuing the annual event virtually this year. It is imperative, even during the pandemic, that screening, treatment, and research continue. We are pleased and humbled to partner, once again, with Avon Justine in promoting dignified support to all those affected by this disease." – Linda Reddy Acting Managing Director.
The beauty of this year's event is that the entire country will have an opportunity to participate in the iThemba Walkathon and support the fight against breast cancer due to the virtual nature of the event.
The event will also be supported by A-list celebrities and media personalities such Master KG, the artist behind the international hit sensation Jerusalema, vocalist Noncebo Zikode, and television host Lalah Hirayama. The cast of the popular soap opera, Muvhango, will also be promoting early detection of breast cancer saves lives by supporting the event.