Today, SuperSport's long-time channel line-up will permanently disappear with an all-new sport-specific offering designed to make navigation and content discovery easier than ever.
SuperSport viewers on DStv will be able to enjoy special dedicated channels for leagues and sports, among them the PSL, the Premier League, La Liga, rugby, cricket, golf, tennis, motorsport and several others, which will now have a home to call their own.
Not just live sport will be housed in these channels: supplementary programming such as magazine shows and highlights will add to the overall package.
"Although there are channel changes, no customers will be getting any less content than before. The familiar offerings on each package will remain, but, unlike before, where content could be fragmented, the sport-specific channels will make it far easier for customers to watch the sport they want to watch," the company said.
The channels will be clearly named and for those sports that perhaps don't have their own channel, this content will feature on one of four Variety channels.
The DStv sport offering will now take up a single continuous block of the channel line-up, beginning with SuperSport Blitz on channel 200 and concluding with ESPN 2 on channel 219.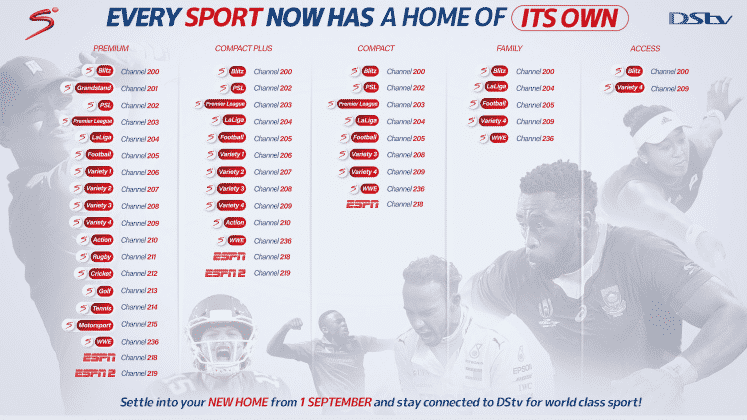 As part of these changes, a new Premium channel, SuperSport Grandstand, will become the home of the day's most important live sport. Grandstand will curate the best live action available to Premium customers at any one time, including soccer, rugby, cricket, golf and tennis.
For those sports that have simultaneous matches, such as Wimbledon tennis or Champions League soccer, the Variety channels can accommodate the overflow ensuring all live broadcasts are on SuperSport.