South Africa's metered taxi, minibus taxi, bus and coach services industries are essential for the growth of the South African economy. Minibus taxis remain the most popular choice of transport for about 69% of South Africa's commuters, generating an estimated R50 billion in fares annually, according to a recent report by ResearchAndMarkets.
Buses and metered taxis continue to lose ground on e-hailing services. The Bus Rapid Transit system has been a failure, with high capital expenses, subsidies and low ridership undermining the plan to provide fast, affordable public transport.
Taxis are used by about 69% of households compared to 59% fifteen years ago. The taxi service industry is estimated to be worth R100 billion with more than 250 000 minibus taxis in the country transporting more than 15 million commuters daily.
Last month, transport minister Fikile Mbalula said the government was continuing its talks with the taxi industry on crucial matters, including the possible introduction of a subsidy for the sector.
That said, how competitive the minibus taxi industry is in terms of tariffs despite not getting a subsidy from the government.
The tariff comparison below is provided by JSE-listed firm, Transaction Capital.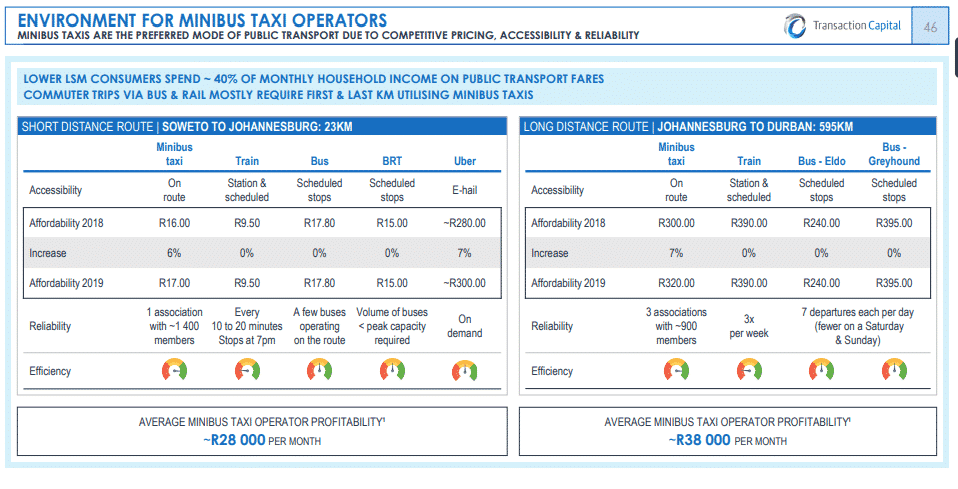 Fares Increase Muted in 2019