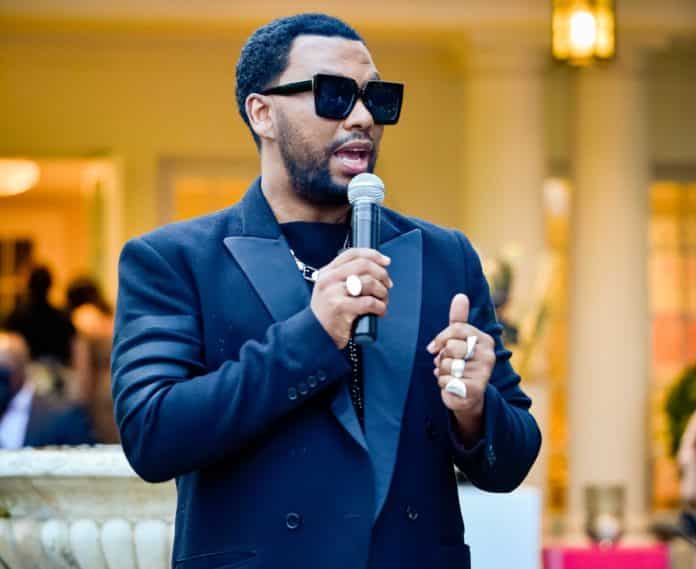 The House of David Tlale on Monday, April 13, will launch a new sustainability-friendly and COVID-19 compliant Autumn/Winter "Fashion Trend" launch with an entirely digital agenda of content, including a fashion showcase and brand collaborations.
 For the first time the fashion maestro that is David Tlale will work in partnership with Boschendal Wines and Avon South Africa to digitally showcase his latest Autumn/Winter 2020/21 Collection titled, "Classica Icons".
You are invited to watch the streamed show at 19H15 on www.davidtlale.com, Avon's digital platforms and across all David Tlale social media platforms.
The pre-recorded virtual fashion showcase will serve as a call-to-action for the local Clothing and Textile Industry and the fashion community at large to help amplify and bring awareness to business sustainability in South Africa and encourage adherence to the set 'National Lockdown' regulations. This prompts new ways of presenting craftsmanship and the creativity of David Tlale's signature trailblazing approach to fashion, promising to inspire "Africa and Global Trends" in this coming Season.  
With the status of the current global health pandemic creating uncertainty around the world, staying at home has become essential to ensuring the health and safety of the vulnerable in our nation.
"The David Tlale online fashion show is a game-changer that breaks new ground in the world of fashion. It enables all of us to leverage the ubiquity of technology and online platforms while ensuring that we maintain a semblance of normality, safeguard business continuity and offer hope about the future during this uncertain time," says Mafahle Mareletse, Managing Director for Avon Turkey, Middle East and Africa.

"The fashion industry, like many sectors of the economy, has taken a knock following the outbreak of the 2019 Novel Coronavirus.

Avon X DT

"This exhibition showcases the resilience we have as a nation and gives us the opportunity to market our rich heritage and culture. This collection, which bears David's signature audacious interpretation of print and design, will ensure that our customers can maintain sartorial elegance during the coming season and enhance the earning potential for thousands of our Representatives, who are the lifeblood of our business." 
Tlale says: "I am proud of the South Africans who have committed to the lockdown regulations and through this showcase, we hope to provide our audience with a diversion from the daily stigma of negativity surrounding our lives. We hope that this collection will motivate everyone to have a positive outlook on life, be inspired and to know that "this too shall pass."
Tlale also states that the "Classica Icons" Collection – created before the global COVID-19 epidemic – draws a lot of inspiration from his classic design ethos which has helped shape the brand's luxury and bold appeal.
He adds, "The Collection carries iconographic prints and textures as well as timeless silhouettes that have stood the test of time since the inception of the brand 'David Tlale'. We have never been ones to shy away from unique and innovative designs, prints and craftsmanship, thus we thrive on perfecting our tailoring skills to showcase beauty without pretense in our collections.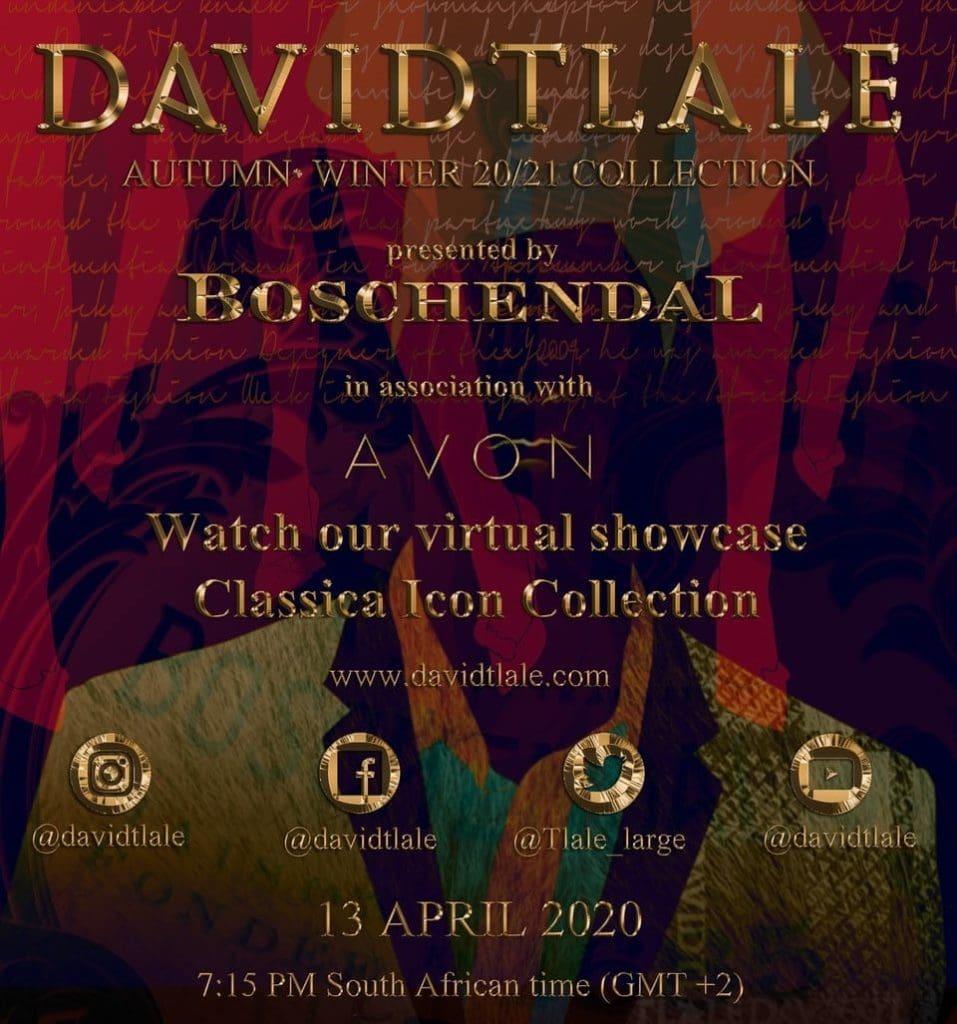 "We are launching this collection to the world, to bring hope and a brighter side of life, as the old saying goes…
"When you Look Good, you Feel Good" so, let's dress up and overcome "FEAR" and know that this pandemic will pass, and we will come out shining." 
David Tlale's Avon range can be purchased from www.avon.co.za or through a local Avon Representative and/or Business Owner for delivery after lockdown, and you can also buy Avon essential products such as hand/face/body washes, all hand/face/body lotions, grooming tools, hair care, roll-on and body spray deodorants, as well as spritzers as these are hygiene products from our online stores for express deliveries," concludes Mareletse
To watch the event from Avon social media platforms, please use the links below:
YouTube: Avon South Africa Official:
https://www.youtube.com/channel/UCAoHSRWLug8Vsei7eQ-rWVw
Facebook: Avon South Africa:
https://web.facebook.com/AvonSouthAfrica
Instagram: @avonsouthafrica
https://www.instagram.com/avonsouthafrica/
Twitter: @avonsouthafrica      
https://twitter.com/AvonSouthAfrica
Official hashtags for the day:
#AvonSouthAfrica
#DavidTlaleClassicalcons
#BoschendalWines