While South Africans countrywide are in a festive mood, retailer Woolworths came under fire for lack of diversity in their leadership team.
The South African retailer on Monday posted an image of the Woolworths leadership team on the brand's official Twitter account after the team dropped by a Woolworths store to "help store staff during the Christmas rush" by packing groceries.
In the tweet, the Woolworths leadership team consist only of Caucasian and Indian people.
Instead of stirring emotions, the tweet caused an outrage, with users blasting it for its lack of diversity and failing to represent all South Africans.
Woolworths tweeted.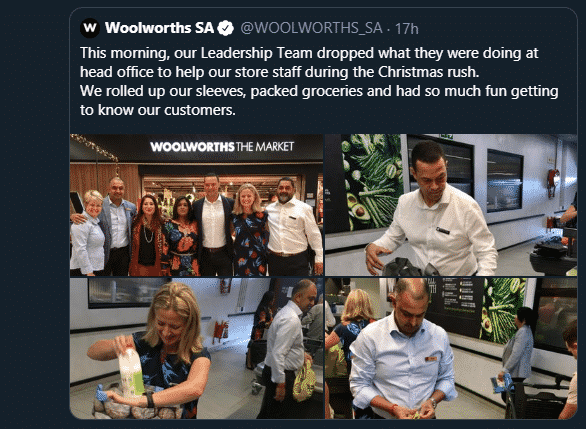 One Tweeter user tweeted: Is @WOOLWORTHS_SA anti blacks, where is black people in your senior management team. Are we represented by Indians?
😂😂 I love seeing black people angry with this. Yall think you have made it in life when you shop at Woolies. Even when you buy bread, everyone must know. Now you see where your money is going and you are mad? pic.twitter.com/RoMzQyS30H

— TheVenḓaPanther (@RohulaBlack) December 23, 2019
Lol we told you guys these companies hire Indians for BEE and call it "diversification" while they overlook African black people. This picture doesn't in any way represent diversity. You love our money but don't trust us enough to put black People in management sis woolies
Could have just used this pic? pic.twitter.com/vXPOoVySR2

— Mahazepuz (@mahazepuz) December 24, 2019
Decolonization Project🇿🇦 How do we punish woolworths for the lack of transformation?
#WoolworthsMustTransform
Guys, @WOOLWORTHS_SA is a public company funded by our pensions. It's management must be representative of all SAs especially the majority. It is funded by our pension funds. We can build our own as we take our rightful place in this economy. pic.twitter.com/Lvy7nSKvNe

— Tshupelo (@tp_mosiane) December 23, 2019