South Africa's Naspers is likely shopping around for ideal investment opportunities now that the Cape Town-based group has filled up its coffers.
The internet technology investor announced on Friday that strong balance sheet with net cash of $6.3 billion (R90 billion) positions it well to pursue growth.
"We executed well during the past financial year, growing revenue 29% to US$19.0bn, and trading profit 22% to US$3.3bn. With a continued focus on accelerating growth in our core segments, the Classifieds and core payments service provider businesses are now profitable. Trading-loss margins in etail and the rest of the payments and fintech business narrowed as the businesses delivered solid revenue growth and continued to scale," Basil Sgourdos, Naspers' group chief financial officer, said on Friday.
"We have broadened our ambitions in Food Delivery, which is an exciting, meaningful and rapidly transforming opportunity fuelled by a significant reallocation of consumer spending to this growing sector. Our progress gives us confidence in our ability to continue to identify opportunities that can create significant value going forward."
The global consumer internet group announced on Friday that the successful listing on JSE and unbundling to shareholders of MultiChoice unlocked $4 billion (R61 billion) in value.
The company also locked in a substantial return following the Flipkart disposal of $2.2 billion (R31 billion) proceeds at a 29% internal rate of return.
Every day, millions of people use the products and services of companies that Naspers has invested in, acquired or built, including Avito, Brainly, BYJU'S, Codecademy, eMAG, Honor, ibibo, iFood, letgo, Media24, Movile, OLX, PayU, SimilarWeb, Swiggy, Takealot, and Udemy.
Similarly, hundreds of millions of people have made the platforms of its associates a part of their daily lives: Tencent, Mail.ru, MakeMyTrip and DeliveryHero.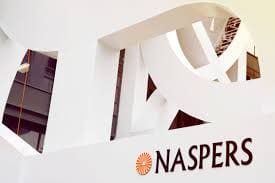 "At the end of the financial year, we also announced our intention to list our international internet assets on Euronext Amsterdam. The listing is designed to create a strong platform for continued growth while also reducing the outsized weighting of our primary listing on the JSE," said the CEO of Naspers,  Bob van Dijk.
"Looking ahead, we will continue to drive profitability in our established ecommerce segments while selectively investing in earlier stage opportunities."
However, the company has delayed the listing of its international internet assets on Euronext Amsterdam and secondary, inward listing on Johannesburg Stock Exchange until September.
The company attributed the delay to an administrative error by an external service provider. The error has resulted in certain of the copies of the circular delivered to shareholders being incorrectly labelled, said the firm.
Naspers is planning to list assets including a $134 billion stake in Tencent Holdings Ltd. on the Euronext exchange.