This week at the Consumer Electronics Show (CES), BMW Group presents the third, even more, powerful model variant of its new technology flagship: the BMW iX M60.
The BMW Group said in a statement the iX M60 combines a vehicle concept consistently geared towards sustainability with the design of a modern Sports Activity Vehicle and thrilling dynamic driving characteristics.
With its technological highlights, which also include the areas of automated driving, operation and connectivity, the new BMW iX M60 represents a new understanding of advanced luxury, high performance and premium character," said the German carmaker.
The BMW iX M60 accelerates from a standstill to 100 km/h in only 3.8 seconds. The vehement power delivery of its M-specific electric drive continues steadily into high load ranges, so that the increase in speed also remains almost constant up to the electronically limited maximum speed of 250 km/h. The range of the BMW iX M60 determined in the WLTP test cycle is up to 566 kilometres.
The venue for its world premiere will be the CES in Las Vegas (USA) in January 2022. The global market launch will begin in June 2022.
The BMW notes that the iX M60 combines its typical M performance characteristics with the exceptionally advanced technology of the BMW Group's new future modular system in the areas of automated driving, operation, connectivity and digital services.
"This creates an experience of premium mobility that is unique in the competitive environment. The completely redeveloped interior architecture also contributes to this, creating an exceptionally generous feeling of space."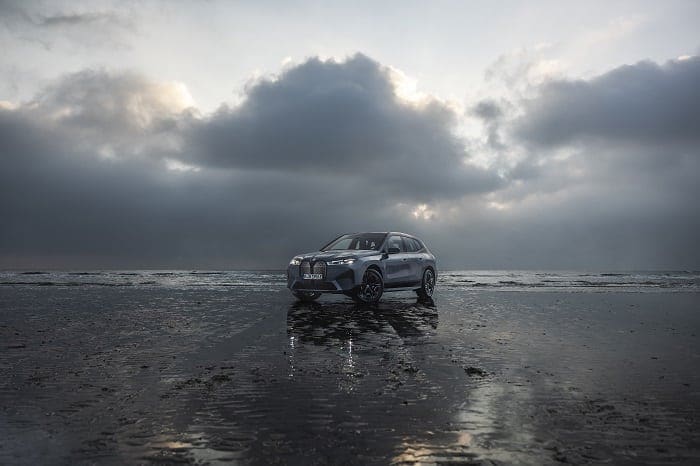 Like the other model variants, the BMW iX M60 features the most extensive range of standard equipment ever offered by BMW in the field of driver assistance systems as well as numerous innovations.
"A new generation of sensors, a new software stack and a powerful computing platform also provide considerable potential for consistently advancing automated driving and parking functions – with level 3 functionality in the medium term."
BMW adds that the latest generation iDrive display and control system expands the interaction between driver and vehicle allowing natural dialogue.
It is based on the new BMW Operating System 8 and has been designed with a clear focus on the touch function of the new BMW Curved Display and voice communication with the extensively enhanced BMW Intelligent Personal Assistant.
"The Remote Software Upgrades offer the possibility to install new and improved vehicle functions over-the-air. Navigation with the cloud-based BMW Maps system and Augmented Reality Video on the Control Display ensures fast and precise route planning as well as perfect traffic guidance," said the German carmaker.
"The BMW iX is also a pioneer in data transmission using the 5G mobile phone standard and in integrating the personal mobile phone account into the vehicle with the help of the Personal eSIM."