MTN's popular WhatsApp and social media data bundles (Facebook, YouTube, TikTok and Twitter), have been revised and re-priced to offer more data and value. Available to both new and existing pre-paid customers.
Launched in April 2018, MTN's Social Bundles enable pre-paid customers to access their favourite social media platforms affordably.
"Social Bundles uptake has been phenomenal over the three years with more customers choosing to stay connected with friends and families on these platforms. These enhancements are in line with our efforts to make data more affordable and accessible for South Africans" says Jacqui O'Sullivan, Executive: Corporate Affairs at MTN SA.
"To further add value to our customers, we have reviewed and revised our Social Bundles portfolio by adding new bundles," says O'Sullivan.
Social Bundles can be purchased through the following channels: USSD (by dialing *136*2# or *143#), MoMo (USSD & App), MTN Stores and MTN APP.
Below are changes to the WhatsApp Data Bundles: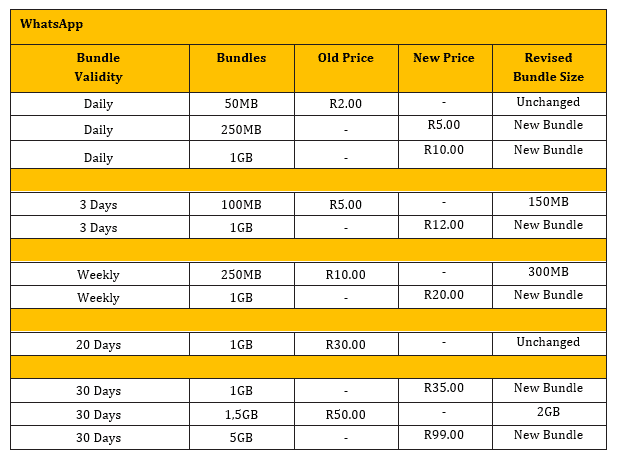 Below are changes to the Social Data Bundles: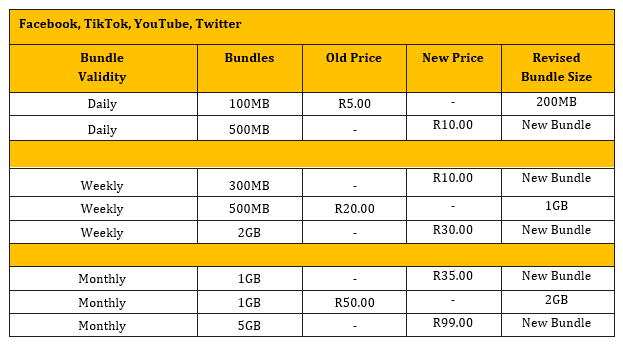 Below are changes to the Social Data Bundles: