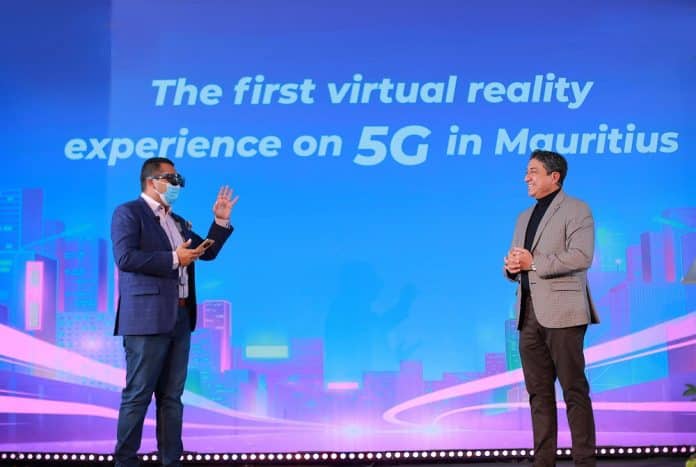 Sherry Singh, CEO of Mauritius Telecom, today launched the my.t 5G Experience Zones at the Hennessy Park hotel, Ebene, in the presence of Honourable Deepak Balgobin, Minister of Information Technology, Communication and Innovation.
With the deployment of four 5G Experience Zones in Ebène, at the University of Mauritius, at Bagatelle Mall and La City Trianon, Mauritius Telecom is propelling Mauritius on the world map of countries that have launched 5G.
The country is now among the Top 10 African countries that have deployed this technology.
Taking up the 5G challenge on the Mauritian market
Singh stated that 5G is a completely new world in terms of connectivity, a world filled with challenges.
In Mauritius, he said, the mobile market is already saturated. 5G is mainly used in large companies around the world to connect millions of devices in the IoT universe, but 5G compatible devices are that not numerous today.
And all these factors make the 'business model' a real challenge.
MT prepares Mauritius to face tomorrow's technological challenges
"Despite a challenging business environment, we have to make a step and get our country ready for tomorrow's Technology… today," says the CEO of Mauritius Telecom.
"We have to lay foundations, today, to prepare the country to face the technological challenges of tomorrow."
With the launch of the four my.t 5G Experience Zones, Mauritius Telecom is the first operator to deploy the 5th generation of mobile network in Mauritius. And for the first time, an operator will build its network together with its customers.
Mauritius Telecom has already placed the country as the leader in Africa and among the world leaders in terms of connectivity.
A world of possibilities…
5G allows very high-speed mobile internet. The first tests on my.t mobile's 5G network in areas with 5G coverage have shown that you can reach a download speed of 1.6 Gbps, which is up to 10 times faster than 4G.
In areas with 5G coverage, 5G users will enjoy a completely new experience, with Ultra-Low Latency, i.e. ultra-fast streaming, ideal for live events, games or AR and VR applications.  5G also offers more bandwidth, which allows you to connect many devices at the same time.
How do I connect to the my.t 5G Experience Zones?
To enjoy the benefits of 5G, you need to have a 5G phone. In Mauritius, there are currently more than 10,000 5G compatible smartphones. For now, the only 5G compatible smartphone available in Telecom Shops is the Huawei P40 Pro. The iPhone 12 and Samsung S21 will be available with 5G after updates from the manufacturers.
To enjoy the 5G experience, you will need to register either on myt.mu /5g. You will then receive a notification that will allow you to connect to the my.t 5G network, if your phone is compatible.
Also read: How Mauritius is Fast Becoming a Big Business Player in Africa