The new S-Class is described by Mercedes-Benz as a luxury saloon that does full justice to its innovative tradition.
"The new generation will once again set the pace in the automotive industry: The S-Class offers trailblazing innovations in all areas, from safety and comfort to efficiency," Prof. Dr. Uwe Ernstberger, Head of S-Class and C-Class model series product group, explains.
"One common theme is systematic digitalisation, both during the development process and in the vehicle itself. Intelligent networking of different systems gives our customers tangible added value."
In short, this luxury saloon does a great job of showcasing new technology.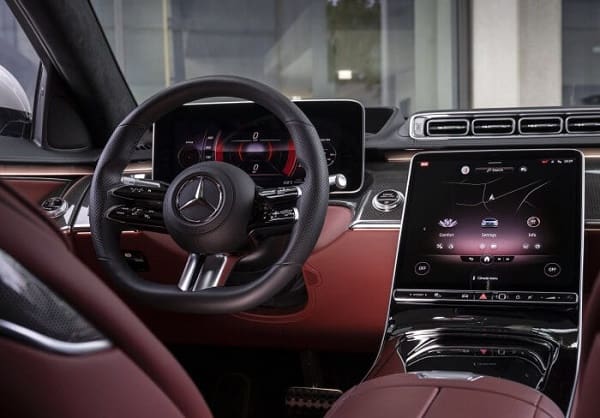 The new Mercedes-Benz S-Class has become more intelligent in many areas, and the driving experience is at the next level. Digital innovations such as in MBUX (Mercedes-Benz User Experience) are joined by innovations that increase driving enjoyment while making driving even safer: among them are rear-axle steering with a large steering angle and safety innovations such as the rear airbag.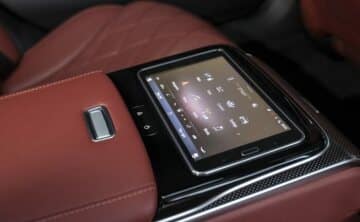 The German carmaker says the vehicle's interior is even more digital and intelligent, as both the hardware and software have made great strides: brilliant displays on up to five large screens, in part with OLED technology, make control of vehicles and comfort functions even easier. The possibilities for personalisation and intuitive operation have become far more extensive. This certainly applies in the rear, but also to the driver: For example, the new 3D driver display allows a spatial view at the touch of a button for the first time. A real three-dimensional effect is achieved without having to wear 3D glasses.
MBUX Interior Assistant monitors the driver and front passenger via two laser cameras in the overhead control unit. Any movements of the hands, head or upper body are interpreted in relation to the specific context or at the explicit request of the occupants. The image data from the cameras are directly converted into metadata. The data is processed within the vehicle itself and not stored or transmitted elsewhere.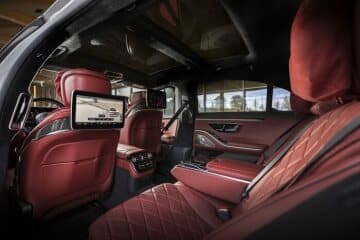 The voice assistant "Hey Mercedes" is available on every seat, and even more, learn and dialogue is capable by activation of online services in the Mercedes me App. Moreover, certain actions can be performed even without the activation keyword "Hey Mercedes". These include accepting a telephone call. "Hey Mercedes" now also explains vehicle functions and can e.g. help when asked how to connect a smartphone to Bluetooth or where a first-aid kit can be found.
Thanks to the Smart Home function, domestic equipment and household appliances can also be networked with the vehicle and voice-controlled remotely (see a separate chapter for details). "Hey Mercedes" is now also able to recognise vehicle occupants by their voices. Once the individual characteristics of the voice have been learned, this can be used to access personal data and functions by activating a profile.
"Hey Mercedes, is there anybody in my home right now?" "I've had a look. The last movement detected was in the kitchen one hour ago." This is how future dialogues between the driver or passenger and the user's smart home might proceed using the MBUX (Mercedes-Benz User Experience) voice assistant.
On market launch, the MBUX Smart Home function will support numerous devices offered by important smart home suppliers. Right from the start, Hey Mercedes understands queries and commands in four languages (German, Chinese, American and British English). These can be made for lamps, sockets, thermostats, shutters and blinds, motion detectors and door or window contacts, as well as temperature sensors.
So the system can also answer this question: "Did I remember to turn the heating down?" Depending on the response and the thermostats installed in the home, it is possible to change the setting: "Set the temperature all around the house to 18 degrees!"
"The S-Class is the world's best-selling luxury saloon. With the latest generation we want to offer our customers innovation, safety, comfort and quality as never before," says Ola Källenius, Chairman of Daimler AG and Mercedes-Benz AG.

Mercedes-Benz-S-Class